Issue Alert: NVIDIA Driver Update
A recent NVIDIA graphics driver may result in significantly increased shader caching load times while launching Halo Infinite. If you're experiencing this issue, roll back to
NVIDIA driver version 537.58
. If you're still experiencing longer than normal loading screens after rolling back,
submit a ticket
so the development team can investigate.
Updated: October 20th, 2023
Halo Infinite should be played with the latest PC graphics drivers. To install the latest drivers, visit the manufacturer's support site:
AMD
NVIDIA
Intel

Intel graphics hardware is not supported at this time
If you are not sure which graphics driver you need to install:
Press the Windows key to open the Start menu
Type "dxdiag" into the Start menu's search bar and press Enter
Once the DirectX Diagnostic Tool opens, go to the Display tab
The listed device name is your video card model, the current driver version will also be listed
Please contact the GPU's manufacturer if you have any issues with installing graphics drivers or maintaining a graphics processing unit (GPU). Halo Support is unable to assist with any PC hardware issues.
Please note that modifying game files may result in performance issues and crashes. If you're experiencing issues after modifying game files, try repairing apps and programs in Windows or using Steam's Verify integrity of game files feature to see if it improves performance or stability. If not, a full uninstall and re-install of Halo Infinite may resolve the issue. If your issue is still occurring after a full re-install of Halo Infinite, please make a note of this in your Halo Support ticket.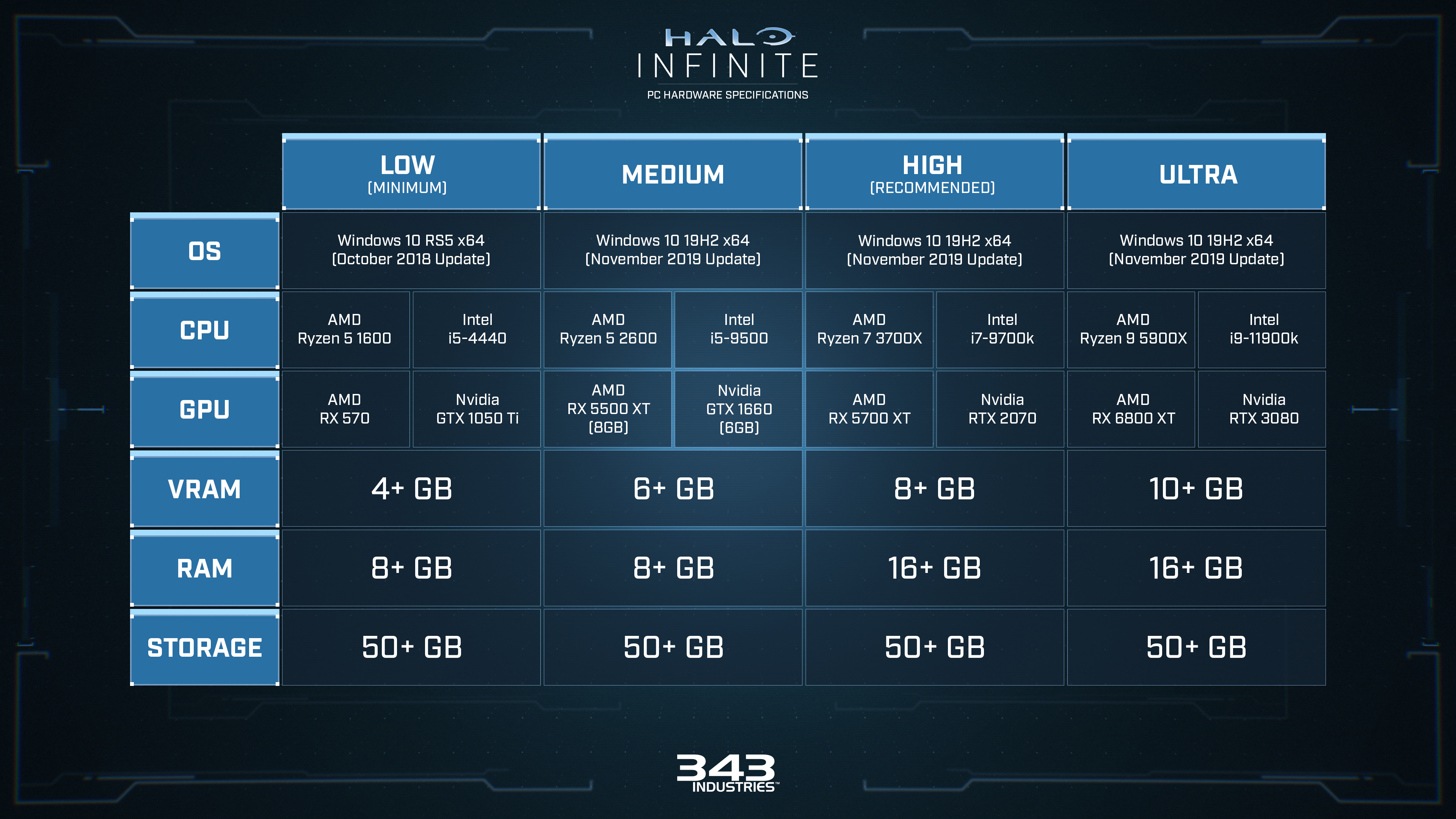 PC Hardware Specifications (text version)
Low (Minimum Requirements)
OS: Windows 10 RS5 x64 1809 (October 2018 update)
CPU: AMD Ryzen 5 1600 or Intel i5-4440
GPU: AMD RX 570 or Nvidia GTX 1050 Ti
VRAM: 4+ GB
RAM: 8+ GB
SSD: 50+ GB
Medium
OS: Windows 10 19H2 x64 1909 (November 2019 update)
CPU: AMD Ryzen 5 2600 or Intel i5-9500
GPU: AMD RX 5500 XT (8GB) or Nvidia GTX 1660 (6GB)
VRAM: 6+ GB
RAM: 8+ GB
SSD: 50+ GB
High (Recommended)
OS: Windows 10 19H2 x64 1909 (November 2019 update)
CPU: AMD Ryzen 7 3700X or Intel i7-9700k
GPU: AMD RX 5700XT or Nvidia RTX 2070
VRAM: 8+ GB
RAM: 16+ GB
SSD: 50+ GB
Ultra
OS: Windows 10 19H2 x64 1909 (November 2019 update)
CPU: AMD Ryzen 9 5900X or Intel i9-11900k
GPU: AMD 6800 XT or Nvidia RTX 3080
VRAM: 10+ GB
RAM: 16+ GB
SSD: 50+GB