Table of Contents
Season 4 Overview and New Features
This update brings new content, numerous bug fixes, and several new features to Halo Infinite. For a full list of this update's bug fixes, see the Resolved Issues section below. New features and content included in this update are:
Career Rank
Career Rank is a new progression system that awards players with a title and insignia based on their accumulated Personal Score. As players earn more Personal Score, they can progress from the starting rank of Recruit to the maximum rank of Hero.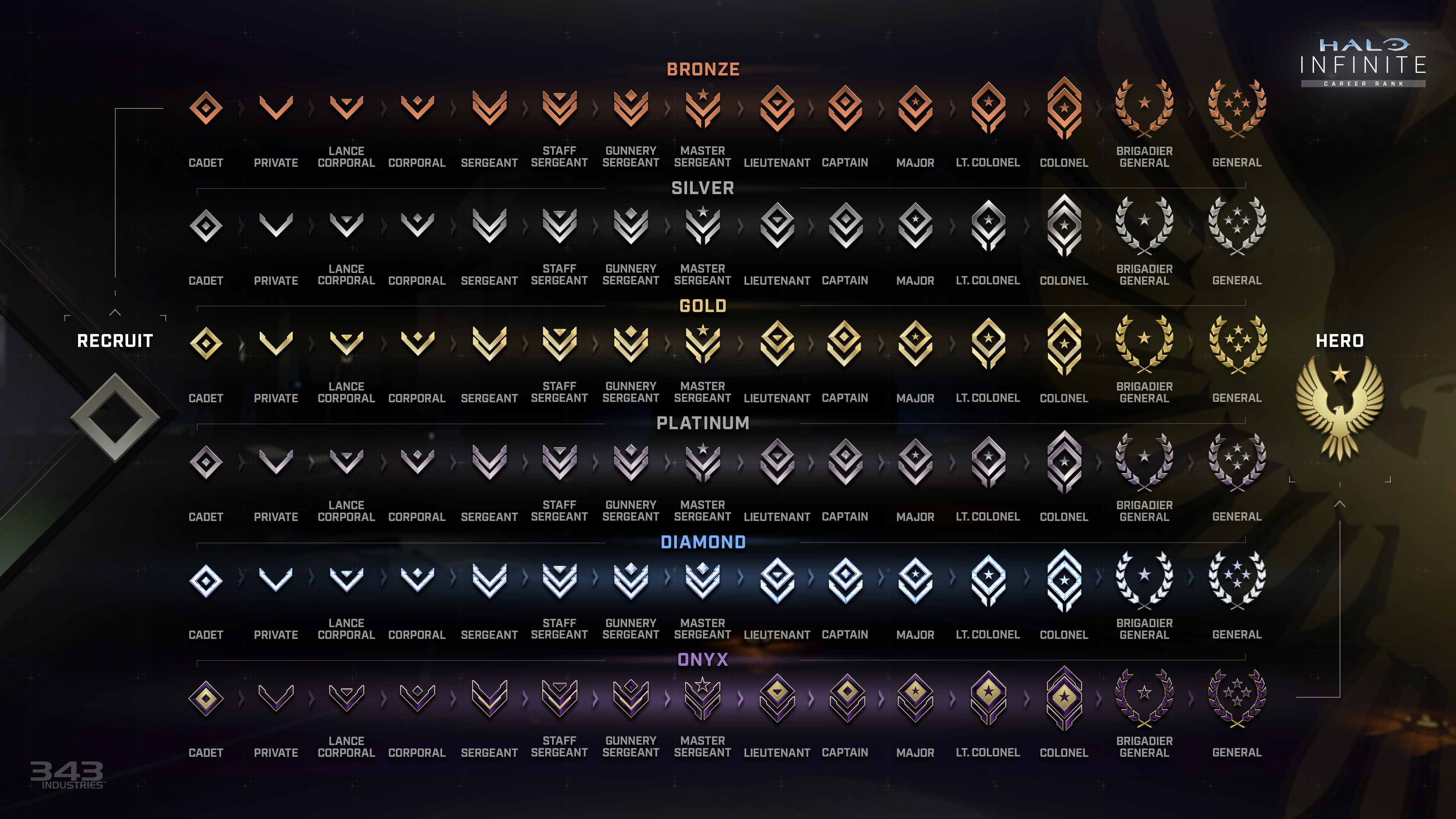 With 3 grades per rank and 15 ranks available in each of the 6 tiers, players must earn over 270 ranks to become a Hero.
After completing a game in a matchmaking playlist, the Personal Score players earn will go towards their Career Rank. Personal Score is earned based on how well individual players performed during the match. This does not include Match XP earned after finishing a game in a matchmaking playlist, which applies only to Battle Pass progression. Personal Score can be viewed during the Post-Game Carnage Report (PGCR).
Once the player's accumulated Personal Score has surpassed a certain amount, they will be promoted to the next rank. The amount of Personal Score needed to rank up increases with each new rank.
As players progress through Career Rank, they will receive new Nameplates and Emblems after reaching certain ranks.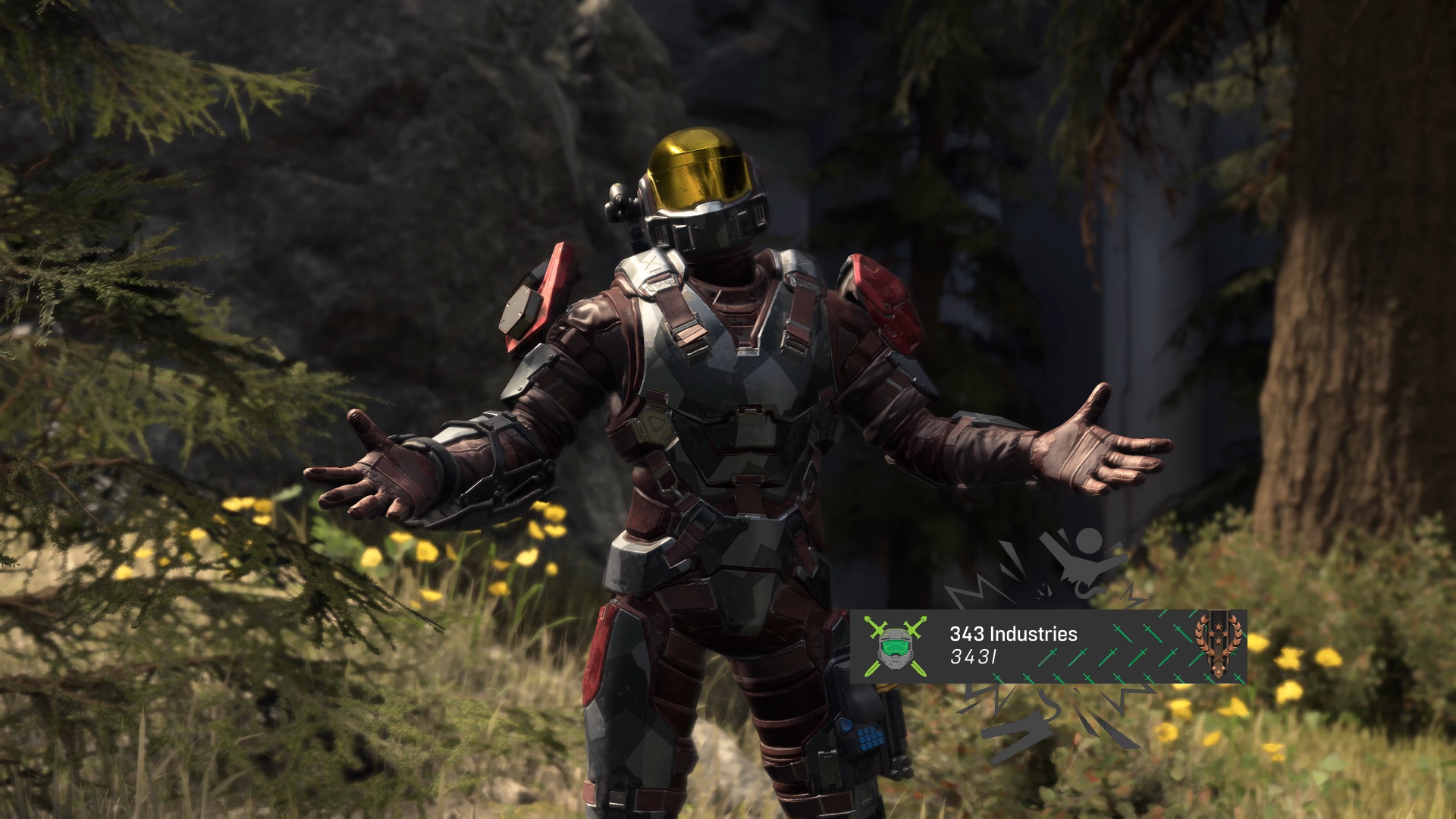 Every player's current rank can be seen on the right side of their Nameplate.
To learn more about Career Rank, please visit the Career Rank Overview blog on Halo Waypoint.
New Battle Pass and Armor Core
Season 4 introduces a new 100-tier Battle Pass with over 180 rewards. Purchasing the Premium Battle Pass is required to earn all rewards, but all players will be able to unlock free tiers that include rewards like Weapon Coatings, Emblems, and customization items for the new Armor Core: HAZMAT.
The HAZMAT Armor Core is available to all players for free and will unlock immediately after the Season 4 update has been installed. Players do not need to purchase the Season 4 Battle Pass in order to acquire this Armor Core.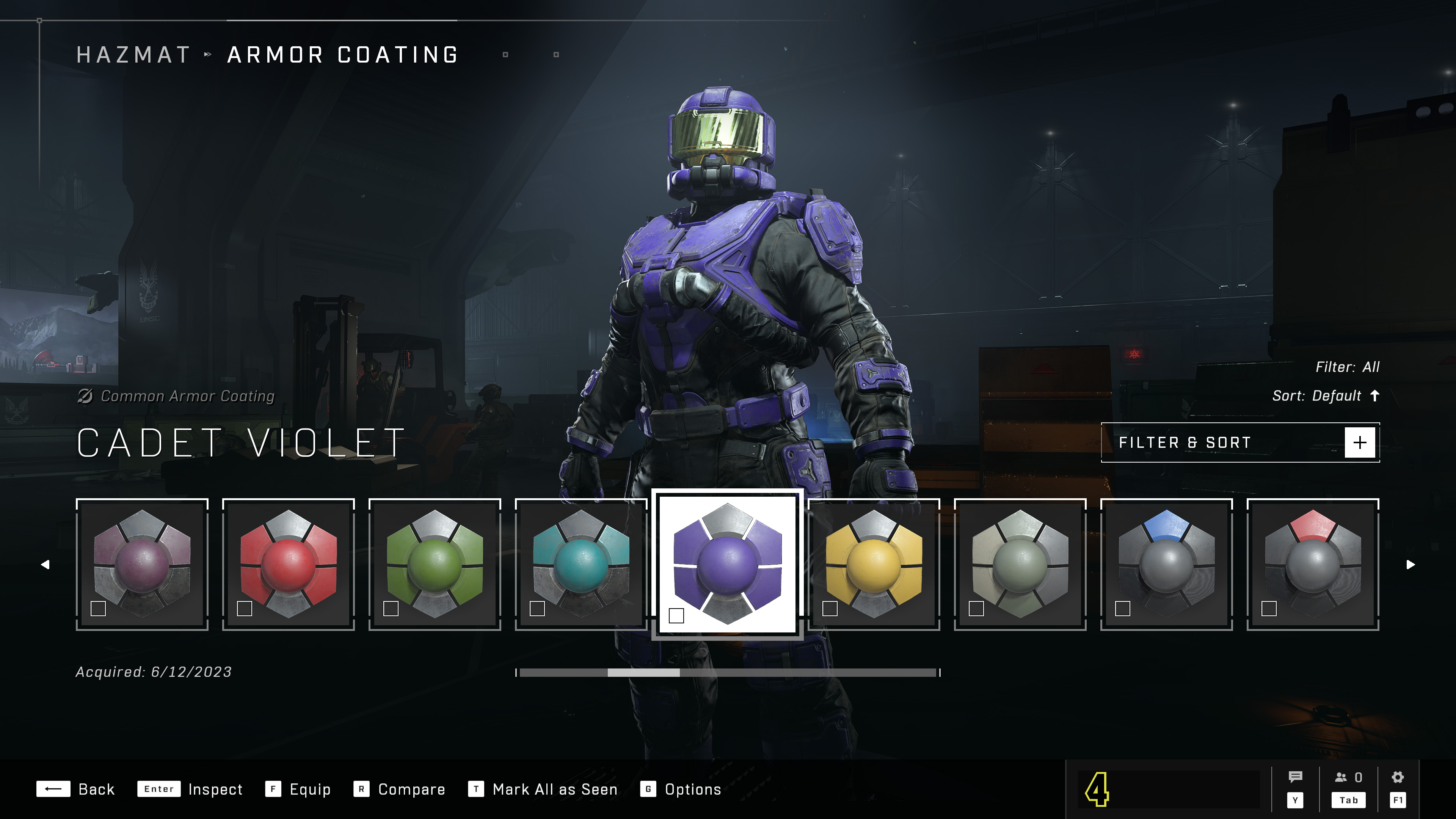 Several Armor Coatings, including the Cadet and Steel series, are unlocked by default for the new HAZMAT Armor Core.
Along with the Premium Battle Pass, players can also purchase the Premium Pass Bundle, which includes 100 XP Grants. This will allow you to immediately unlock 25 Battle Pass levels. To use XP Grants in-game, follow the steps below:
On the main menu, select the Battle Pass tile in the top right corner of the screen. This will open the Season menu.
On the Season menu, use the Boosts shortcut listed along the bottom of the screen.
Select the XP Grant button underneath the Increase XP header.
New Premium Battle Pass Perks
Players who purchase either the Season 4 Premium Battle Pass or the Premium Pass Bundle will earn bonus Match XP for every Multiplayer match completed during Season 4. The bonus Match XP for purchasing either Season 4 offer is awarded no matter what Battle Pass you have equipped. This bonus Match XP will end alongside the end of Season 4 and launch of Season 5.
In addition, players who purchase Season 4's Premium Battle Pass or Premium Pass Bundle will instantly unlock the new MA40 FLASHBLIND weapon model for the MA40 Assault Rifle as well as the Genesis Bloom Armor Coating for all Armor Cores.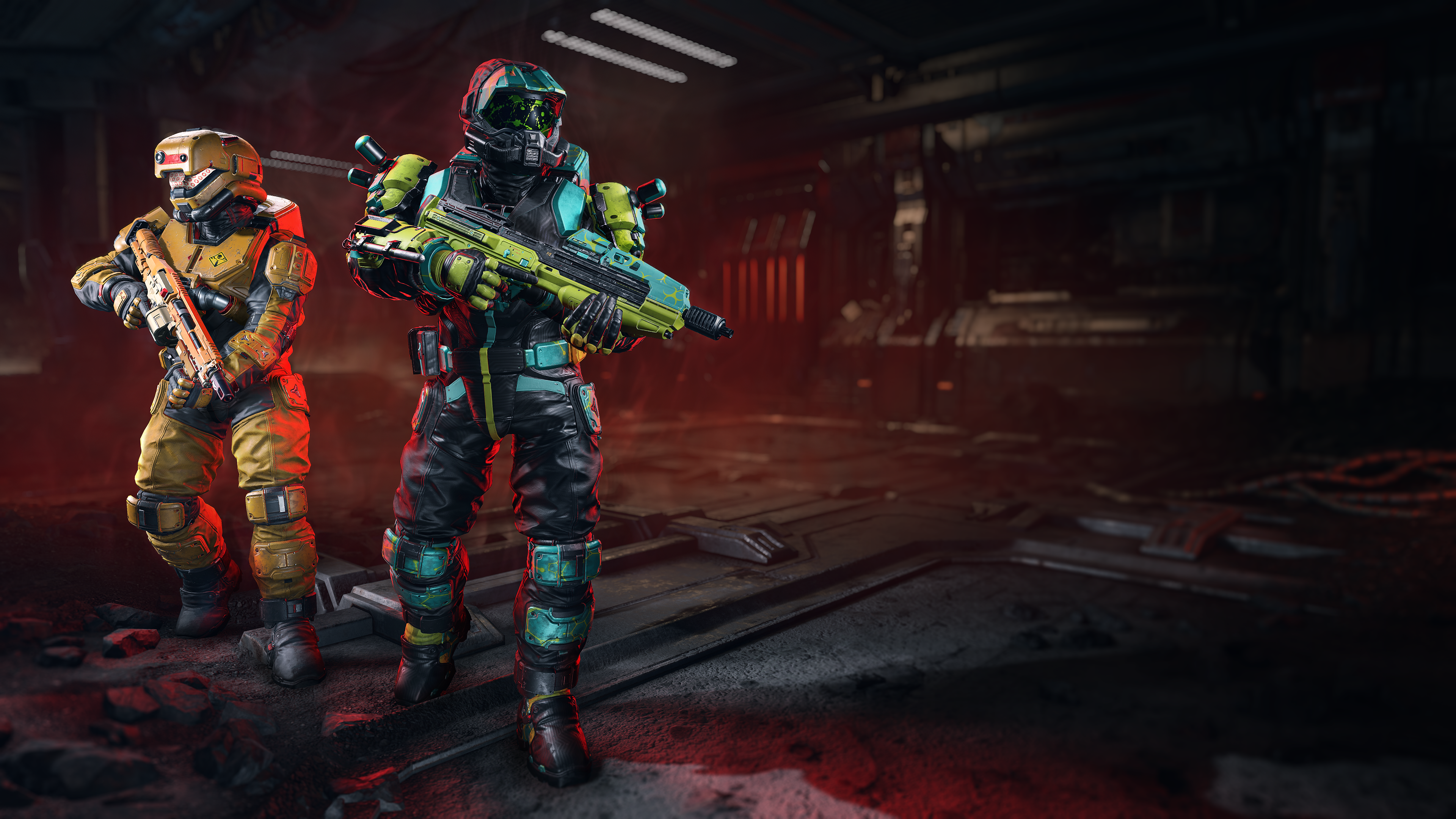 A Spartan (center) using the Genesis Bloom Armor Coating on the HAZMAT Armor Core and the MA40 FLASHBLIND weapon model for the MA40 Assault Rifle. Another Spartan (left) using rewards from the Season 4 Premium Battle Pass, such as the SIGNALTECH DEEPEYE helmet for the HAZMAT Armor Core and the CQS48 MODE MS weapon model for the CQS48 Bulldog.
New Weapon Model Customization Items
Season 4 introduces a number of new Weapon Model items to further customize your favorite weapons. In addition to the MA40 FLASHBLIND and the CQS48 MODE MS weapon models pictured above, players will be able to unlock or purchase the following Weapon Models during Season 4:
MA40 Assault Rifle

MA40 FLASHBLIND
Crimson Sun
MA40 MODE MS

Mk50 Sidekick

Mk50 GROOVEGRIP
Mk50 SWIFTGUARD

BR75 Battle Rifle

BR75 [HCS] Akriveia
BR75 DEVLOOP
BR75 HAZCON
BRXX LIGHTFIRE

CQS48 Bulldog
M392 Bandit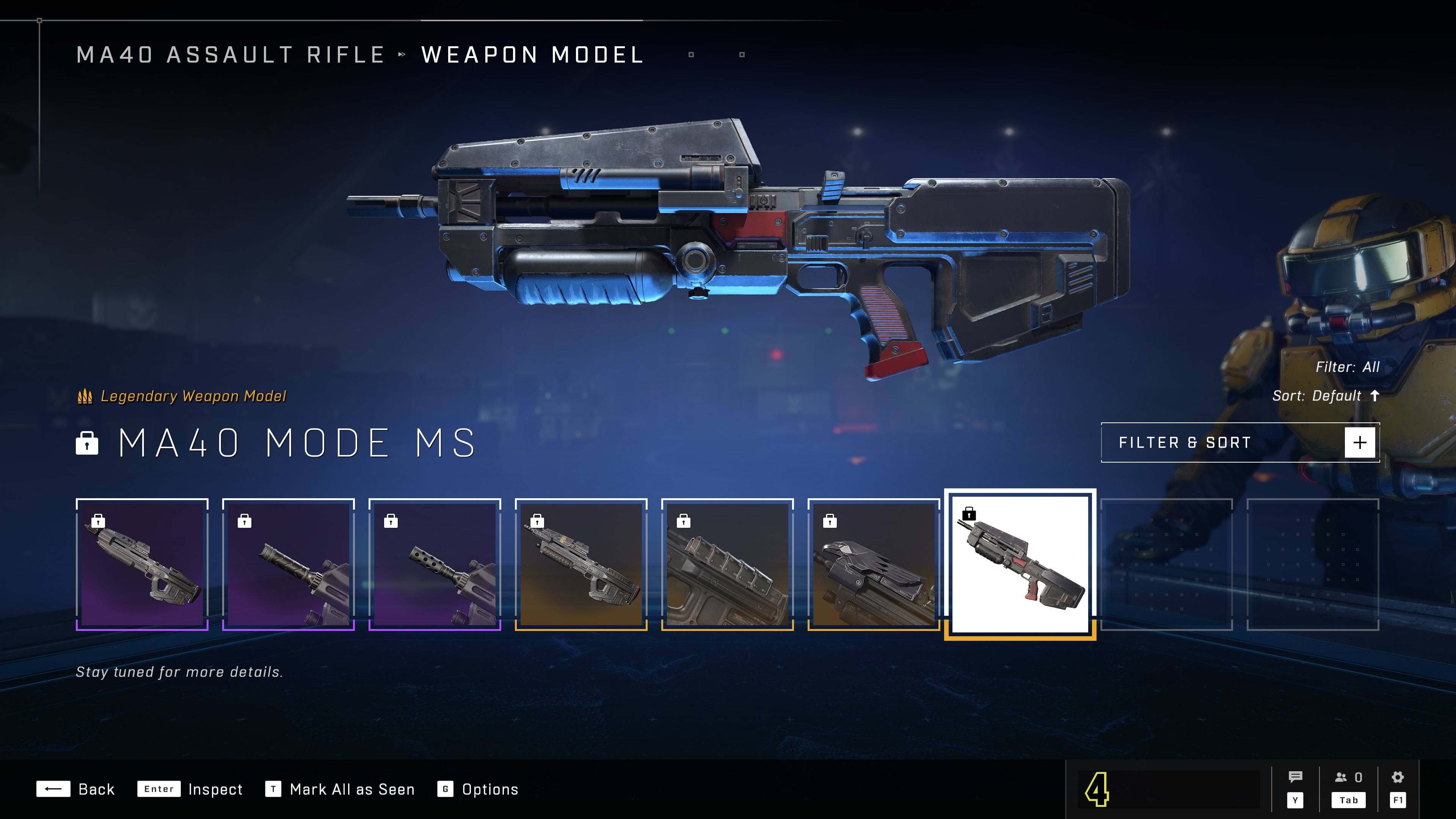 Weapon Models, such as the MA40 MODE MS pictured above, can be equipped in the Weapons Bench menu.
Armor and Weapon Coating Changes
As mentioned in the Season 4 Customization blog on Halo Waypoint and a recent Spartan Chatter Q&A, all Armor and Weapon Coatings from the Premium Battle Pass and the Shop will include versions for all Armor Cores and Weapons. When viewing a Shop bundle, this will appear as individual Coatings for each Armor Core and/or Weapon.
Any Shop bundle released prior to Season 4 or Battle Pass reward from an earlier Season will not be cross-Armor Core or cross-weapon. Additionally, all Coatings unlocked by completing the Weekly and Ultimate Challenges will be for an individual Armor Core or weapon, and not compatible across Armor Cores or weapons.
New Equipment
Quantum Translocator
Activating the Quantum Translocator for the first time creates a teleportation point at a player's current location. Using the Quantum Translocator again will teleport the player back to their initial teleportation point, and it creates a new teleportation point where they teleported from. Each following use returns the players to their latest teleportation point. Be mindful, however, of the Quantum Translocator's time limit (represented by a meter above the crosshairs on the Heads-Up Display) as well as the cooldown after teleporting.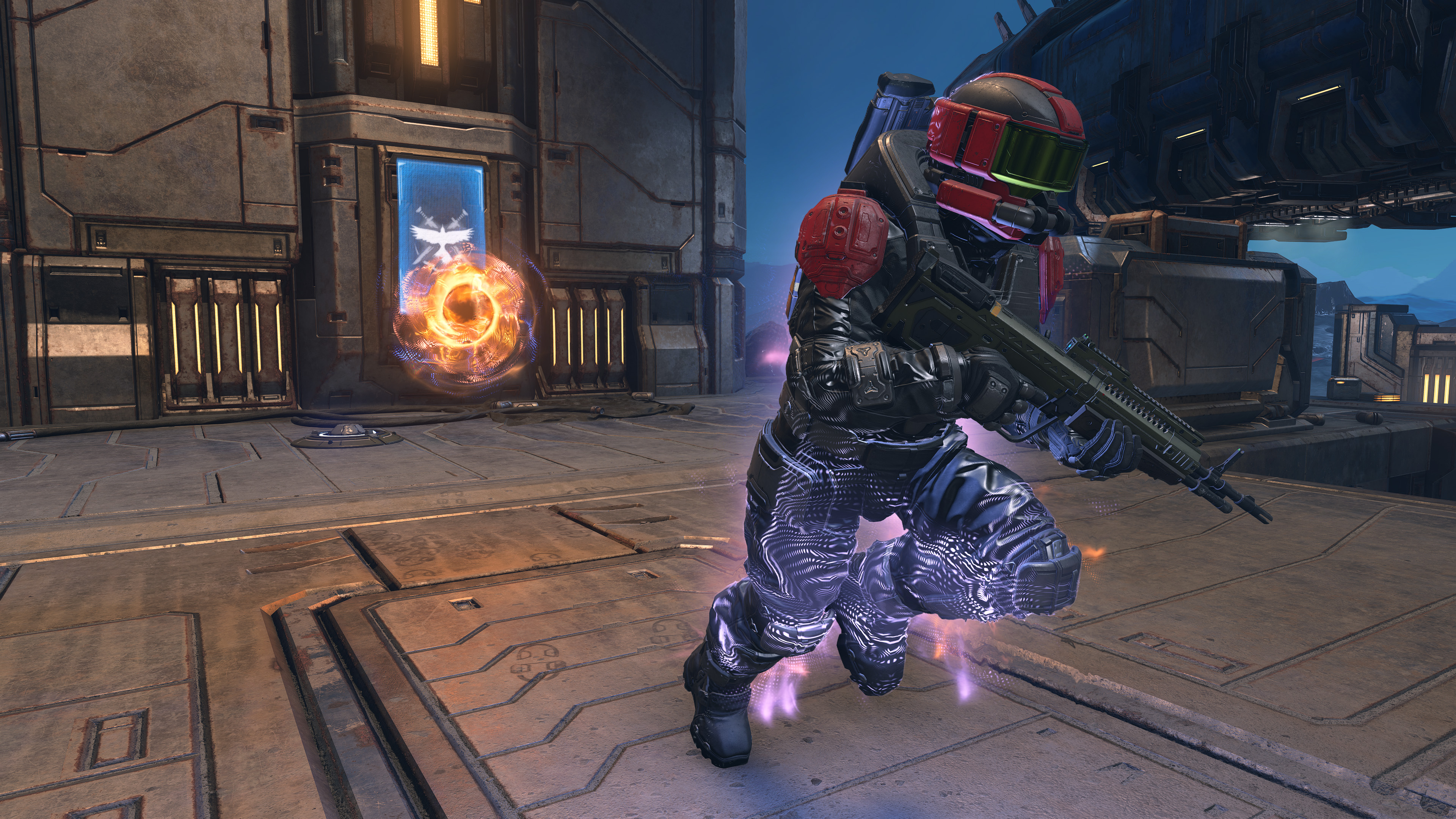 Players who are actively using the Quantum Translocator can be identified by a multi-colored glow.

The Quantum Translocator is only available in Halo Infinite Multiplayer and will spawn on Power Equipment Pads placed throughout various maps, including existing maps released prior to Season 4. The Quantum Translocator is also available in Custom Games, Forge, and Academy's Training Mode.
Threat Seeker
The Threat Seeker is similar to the Threat Sensor but features additional tunings for Ranked game modes and other forms of competitive gameplay. When activated, the Threat Seeker is shot from the player's wrist, and it will bounce off different surfaces until it lands on the ground. Shortly after the Threat Seeker makes its initial contact, it emits a pulse that reveals enemy players within range, however, this only applies to players that are in direct line of sight. Players hidden behind walls or other obstacles will not appear.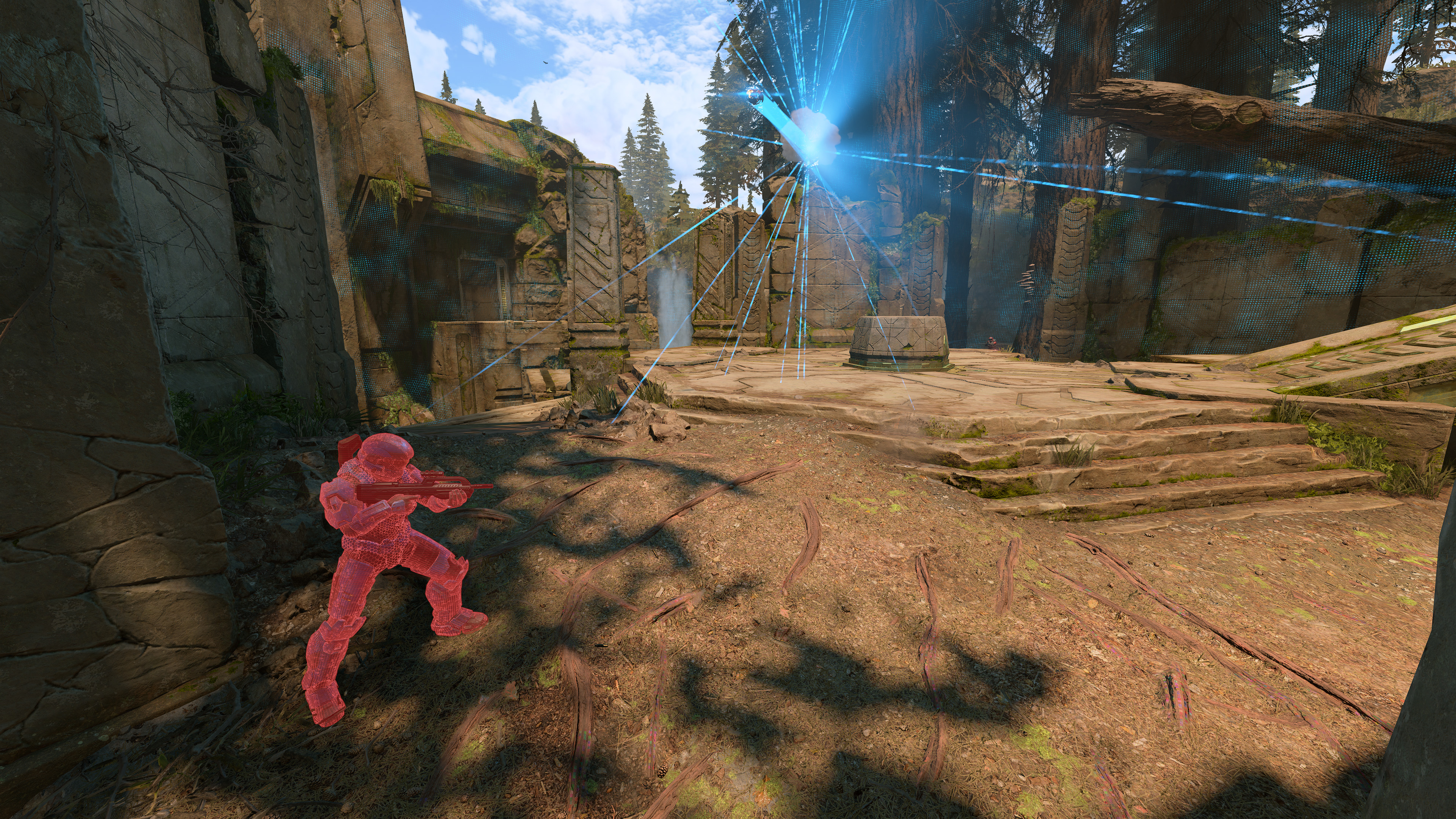 The Threat Seeker's pulse only reveals enemies who are directly within its line-of-sight, so bouncing it up off of an object may provide it with a better vantage point.
The Threat Seeker is only available in Halo Infinite Multiplayer under Ranked playlists and will spawn on Equipment Pads placed throughout various maps, including existing maps released prior to Season 4. The Threat Seeker is also available in Custom Games, Forge, and Academy's Training Mode.
New Multiplayer Game Mode: Infection
The Infection multiplayer mode is now available for all players via Matchmaking and Custom Games.
Players compete against each other as either Infected or Survivors. When a Survivor is killed, they join the Infected. The goal of the Infected is to infect every one of the Survivors, while the Survivors try to make it to the end of the round without getting killed by the Infected.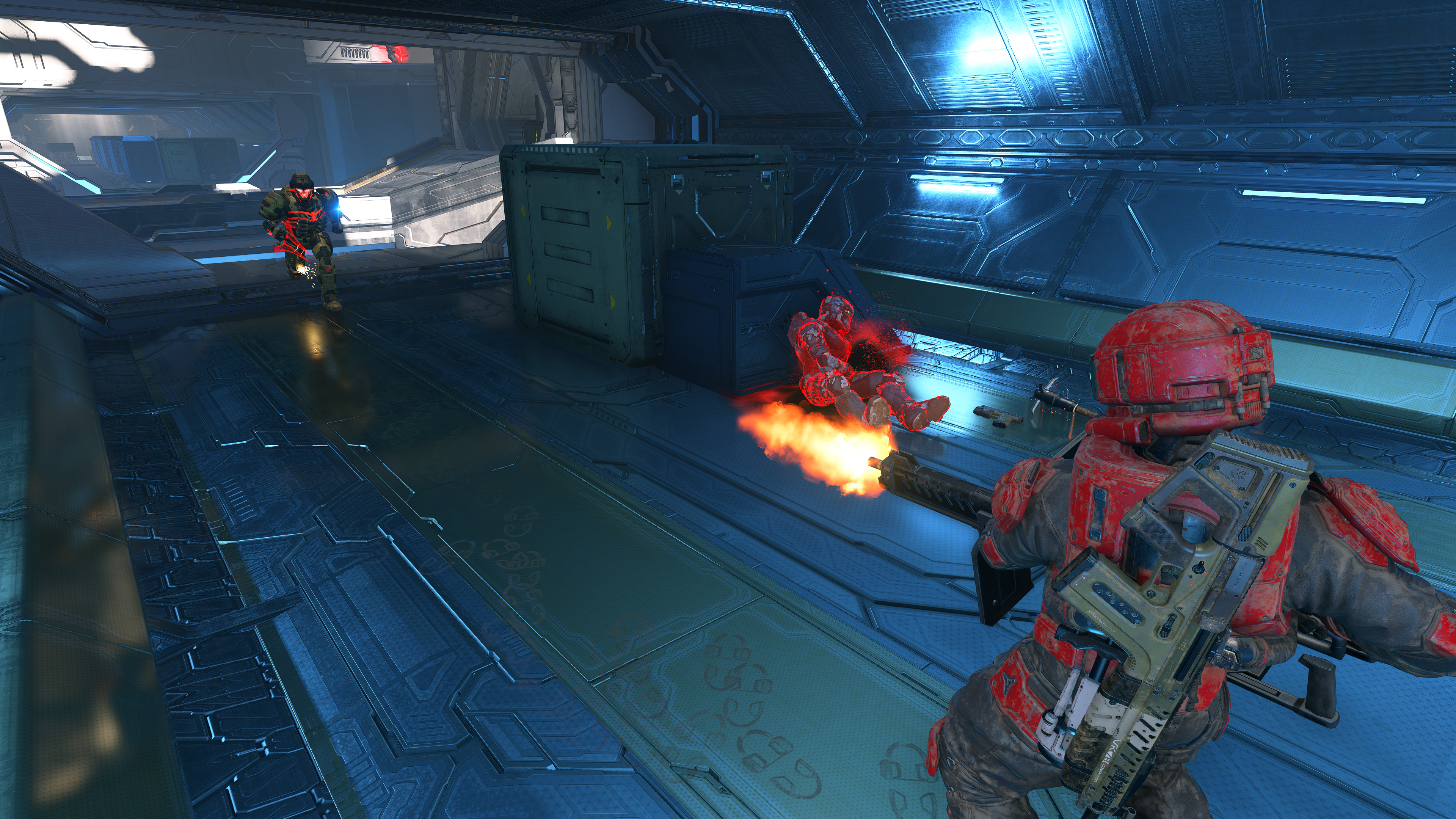 Some existing 343 Industries maps have Infection-specific variants. On Behemoth (pictured above), some pathways are blocked while others have been opened.
Infected work to eliminate each of the Survivors, while the Survivors try to stay alive for the remainder of the round.
The Survivors' starting ammo is limited, however, turrets and the weapons of fallen Spartans are strewn across the map.
If every Survivor is killed, the Infected win the round, but if there is at least one Survivor remaining when time runs out, the Survivors win the round.
Members of the Infected are selected at random at the start of each round and, by default, are limited to two players.
There are two different types of Infected: Alpha and Beta. Alpha Infected are players who were Infected at the start of the round, while Beta Infected are players who were killed during the round and became Infected.

Different starting loadouts for the Alpha and Beta Infected, as well as the Survivor starting loadout, can be customized in Custom Games.

When all but one of the Survivors have been killed, a blue navigation point will appear above the head of the Last Spartan Standing, which will indicate to the Infected the location of the remaining Survivor.

The Last Spartan Standing automatically receives an Overshield.

Infection uses Free-For-All (FFA) scoring, meaning the first-place position goes to the player with the highest Personal Score at the end of the match.
New Multiplayer Maps
To learn more these new maps, visit the "Maps Overview | Season 4" blog on Waypoint or view the video below for a flythrough of each new map:
Arena: Forest
A new Arena multiplayer map, Forest, is now available in Custom Games and various Matchmaking playlists. On Forest, players will fight in an abandoned, asymmetrical Forerunner temple located in a dense woodland.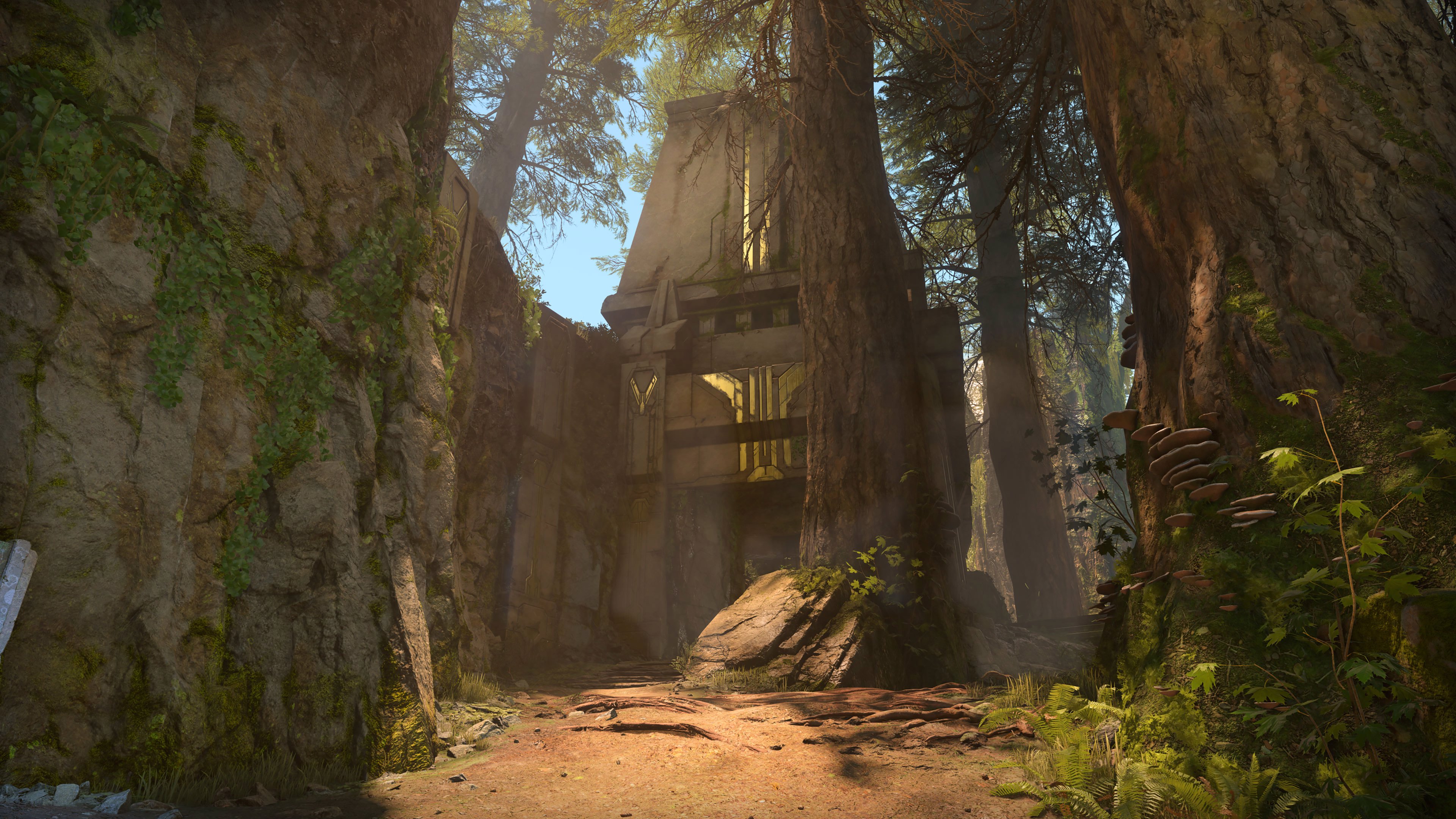 Screenshot of the new Arena map, Forest.
Big Team Battle (BTB): Scarr
Scarr, a new BTB multiplayer map, is now available via Custom Games and various matchmaking playlists. On Scarr, players will compete inside a symmetrical Banished compound built around a large, volcanic pit.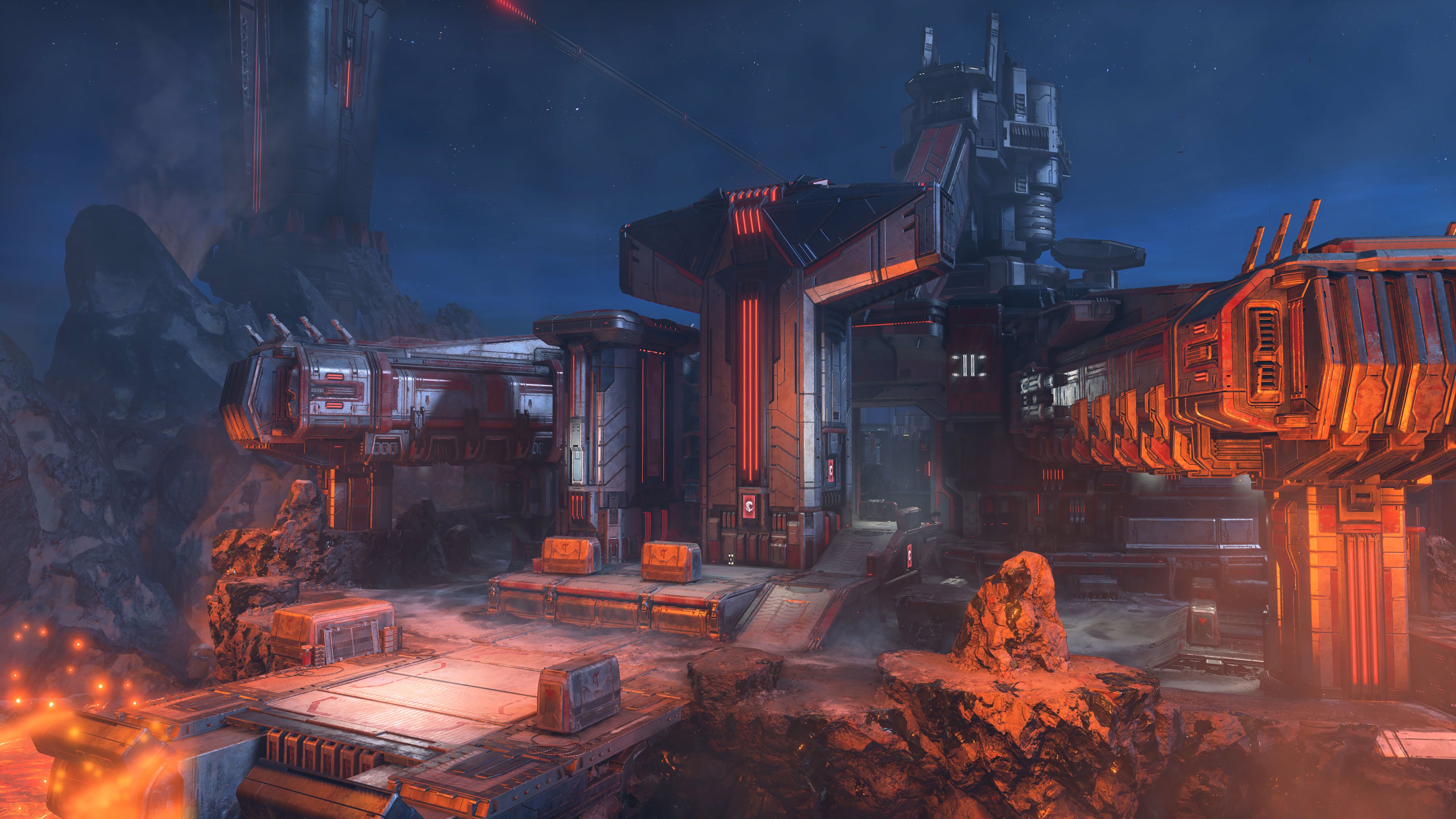 Screenshot of the new BTB map, Scarr.
Upcoming Events
When an event is active in Halo Infinite, players can unlock free customization items via the Event Pass. To progress through the Event Pass tiers and unlock this content, players must complete Event Challenges while the event is active. Event Challenges can be identified by the orange banner icon visible by the Challenge's name, and they can be completed in any matchmaking playlist.
Event dates listed here are subject to change. Please stay tuned to the News section of Halo Waypoint for the latest updates on in-game events.
Infection Events: Hazmat and Containment
Season 4 will feature two separate events: Hazmat and Containment. These events will each last two weeks and feature different 10-item Event Passes. The first of these events, Hazmat, is currently scheduled to run June 27-July 10, 2023.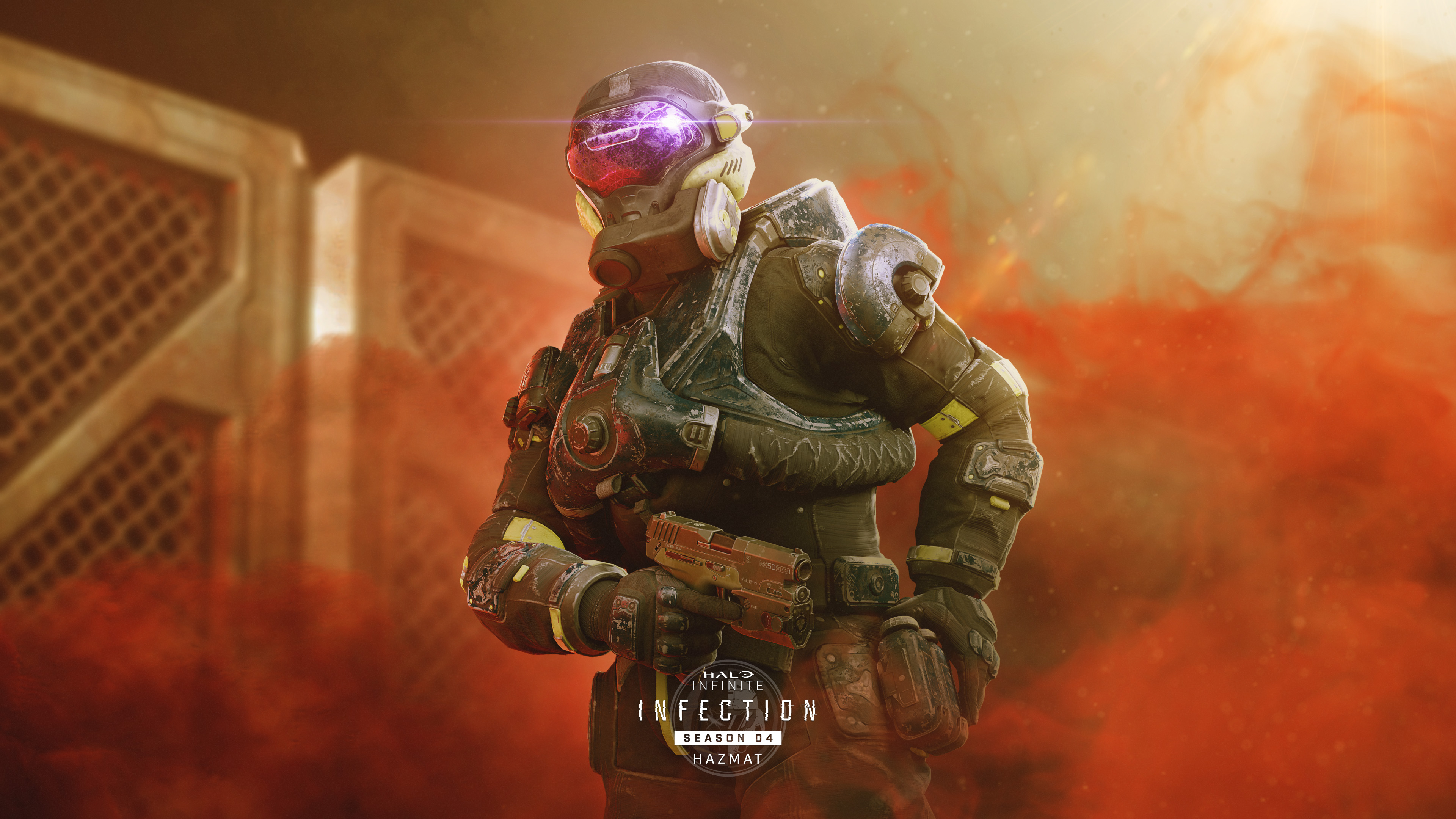 Unlock customization items like the NOTUS helmet (pictured above) by completing Event Challenges during the Hazmat event.
Stay tuned to the News section of Halo Waypoint for the latest updates on the Containment event.
Tenrai II and III
Tenrai returns in Season 4 as a two-part event with two separate 10-item Event Passes. These rewards are different from the ones included in the previous version of Tenrai seen in Season 1: Heroes of Reach.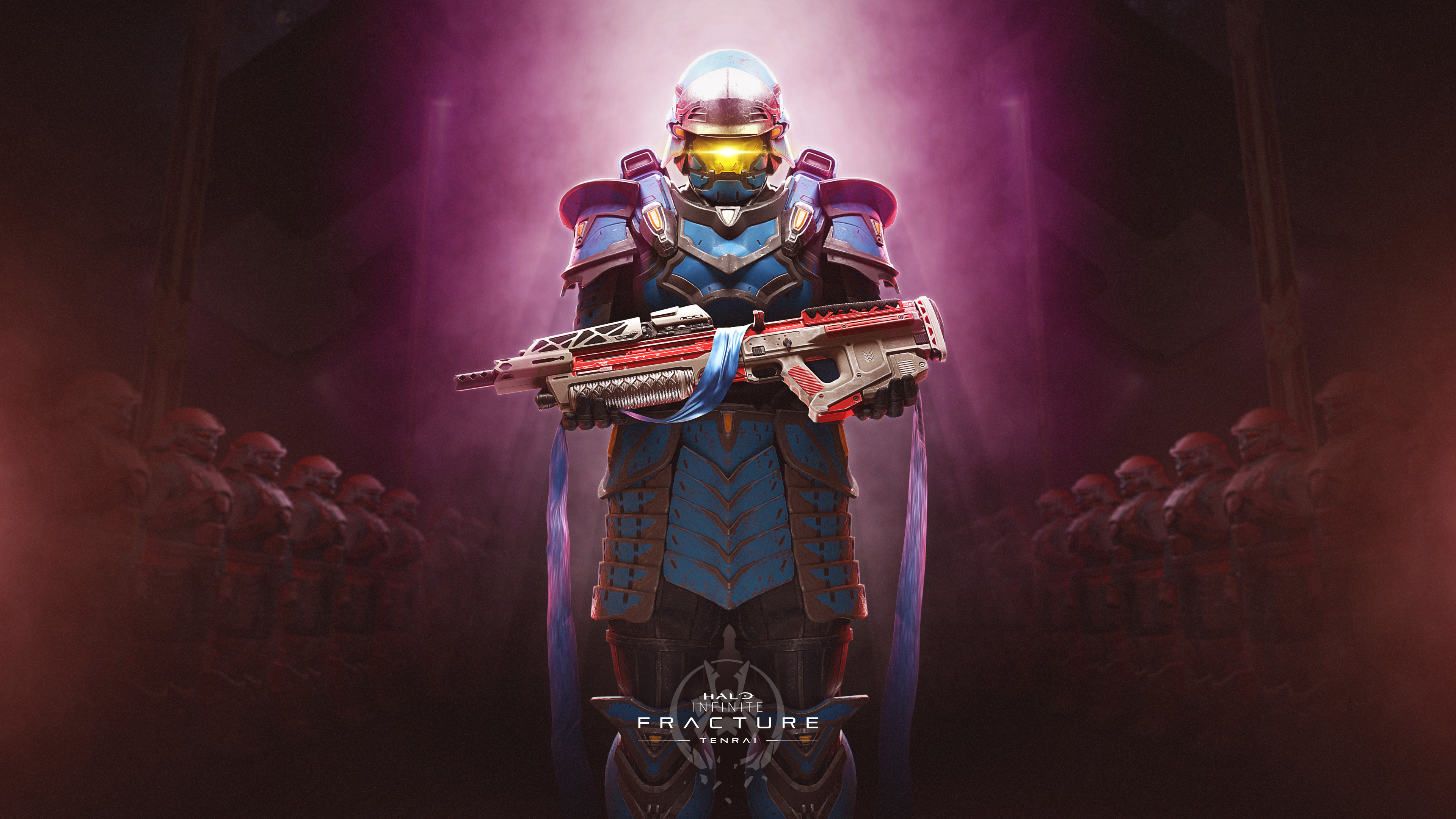 Players can earn free customization items for the Yoroi Armor Core by completing the Tenrai II and Tenrai III Event Passes.
Tenrai II is currently scheduled for July 18-31, 2023, and Tenrai III is currently scheduled for September 19-October 2, 2023. Stay tuned to the News section of Halo Waypoint for the latest updates on Tenrai II and III.
Cyber Showdown II
The Cyber Showdown event has returned with new rewards in Season 4. This event will last two weeks and feature a new 10-item Event Pass. Cyber Showdown will run August 8-21, 2023.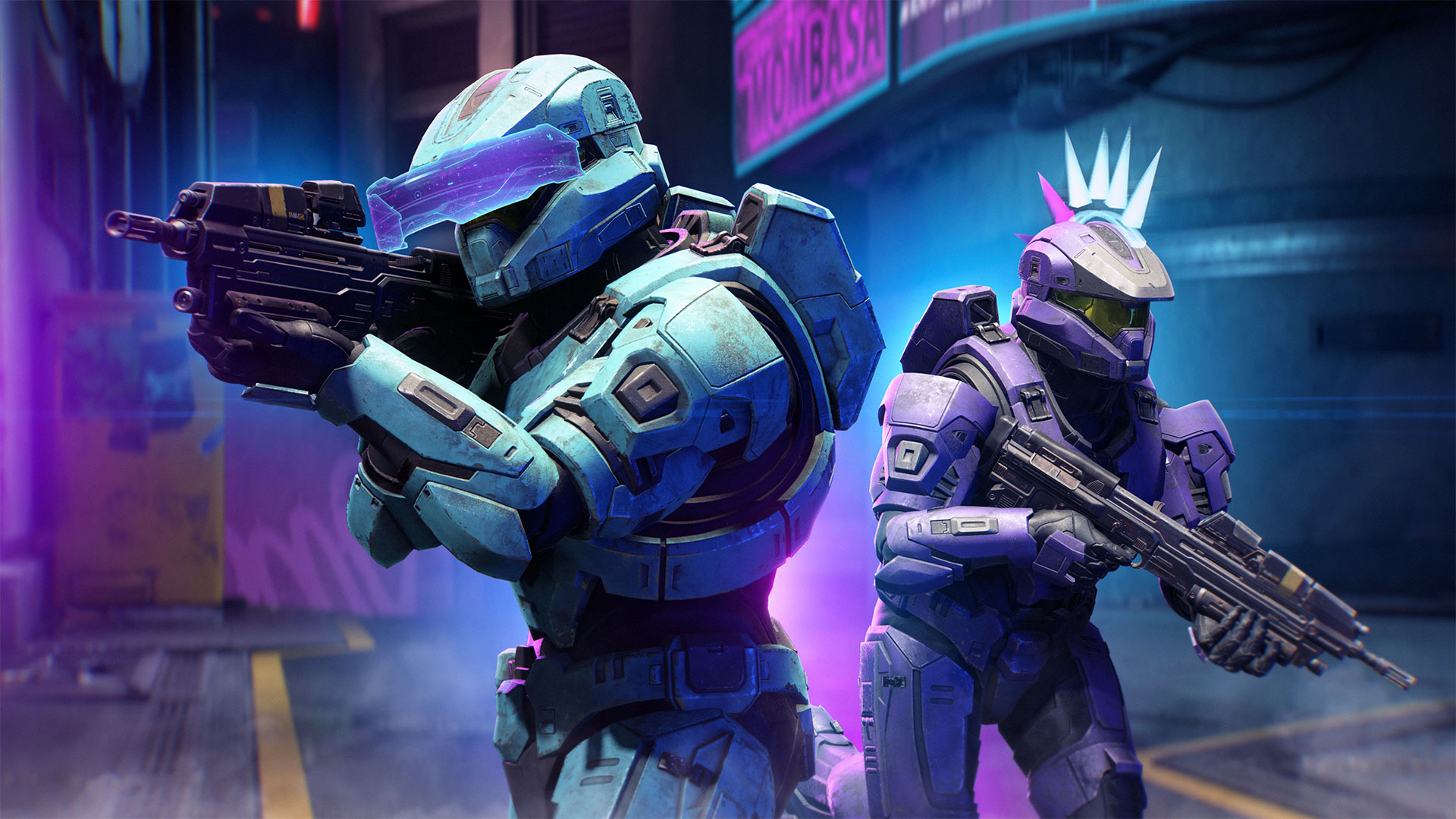 Stay tuned to the News section of Halo Waypoint for the latest updates on the Cyber Showdown event.
Ranked Slayer Matchmaking Playlist
A new Ranked rotational playlist is now available in matchmaking: Ranked Slayer.
Similar to Arena Slayer, Ranked Slayer features two teams of four players racing to reach 50 kills. In Ranked Slayer, players spawn with an MA40 Assault Rifle and an M392 Bandit. Motion Tracker and Friendly Fire are enabled. As in other Ranked playlists, grenade hit markers are disabled. At launch, this playlist includes the following maps:
Aquarius
Argyle
Bazaar
Behemoth
Detachment
Empyrean
Forest
Live Fire
Recharge
Streets
Starboard
Catalyst
Cliffhanger
Ranked rotational playlists were available for two weeks in Season 3, but this is being extended to 4 weeks in Season 4. Ranked Slayer will rotate out of matchmaking on July 18, 2023, four weeks from the launch of Season 4.
For more information on Season 4's playlists as well as Ranked changes, visit the "Playlists & Ranked Matchmaking | Season 4" blog on Halo Waypoint. Stay tuned to the News section of Halo Waypoint and @Halo on Twitter for the latest updates on rotational playlists.
New Forge Features
Minigame Mode, Objects, and Nodes
Minigame mode is now available for all players via the Mode Editor in Custom Games. Minigame allows players to build entirely new game modes from the ground up that are not bound to the rules of standard Arena modes.
To create a new Minigame mode, follow the steps below:
Launch Halo Infinite.
Select Custom Games.
Select Create Game.
Select Mode Editor.
Select 343 Industries.
Select Minigame.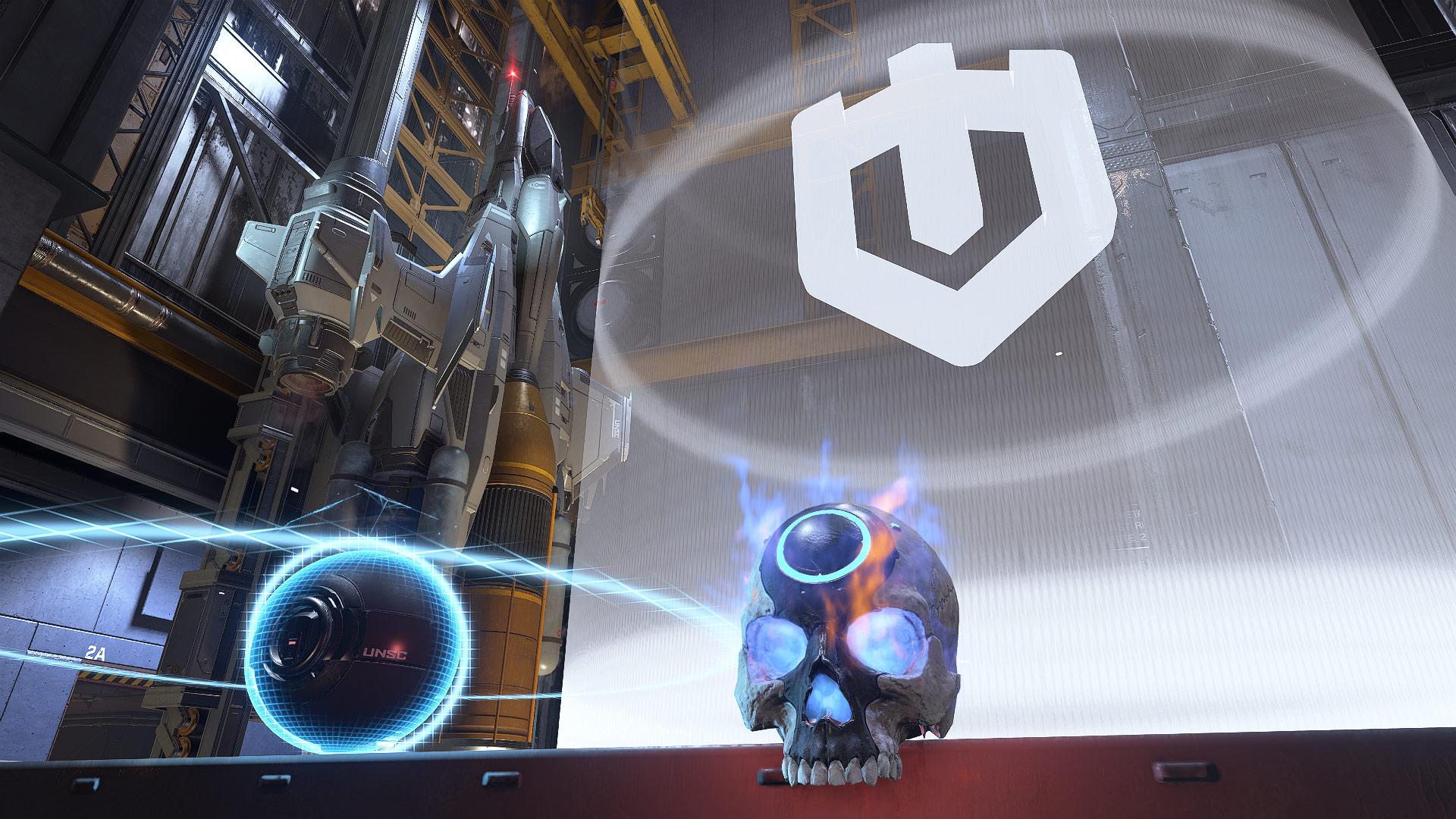 Once a new Minigame mode has been created, it will be saved under My Files.
Players will also be able to access new Generic Game Mode Objects via Forge, along with 25 new nodes that make implementing these objects much more efficient. These objects include:
Generic Capture Zone
Generic Skull
Generic Ball
All three of these new objects will help players create entirely new experiences without being limited to the rules and logic of an individual game mode. For example, a Forge creator can place a capturable zone that players must defend, while also having players try to capture a flag placed in the middle of the map.
In addition, brand-new nodes are being added to assist in the creation of Minigame modes. Many of these nodes were suggested by members of the community. These nodes include:
Get Object By Label: allows players to create Object Lists without using Object References.
Get is Game Mode: run logic only in certain game modes.
Increment Number Variable: a more efficient way to Get, Add, and Set advanced number variables.
Toggle Boolean Variable: an easier way to Get, Branch, and Set advanced boolean variables.
Boolean Not: allows players to negate a boolean variable.
Global Custom Event, Async: lets players run custom events asynchronously.
Stopwatch: lets players create, start, pause, and reset timers from any point in a script.
Water Plane Object
The Water Plane is a new, scalable object that allows players to add a 2D plane of water to their Forge maps. This object is located in the Object Browser menu under Biome/Water.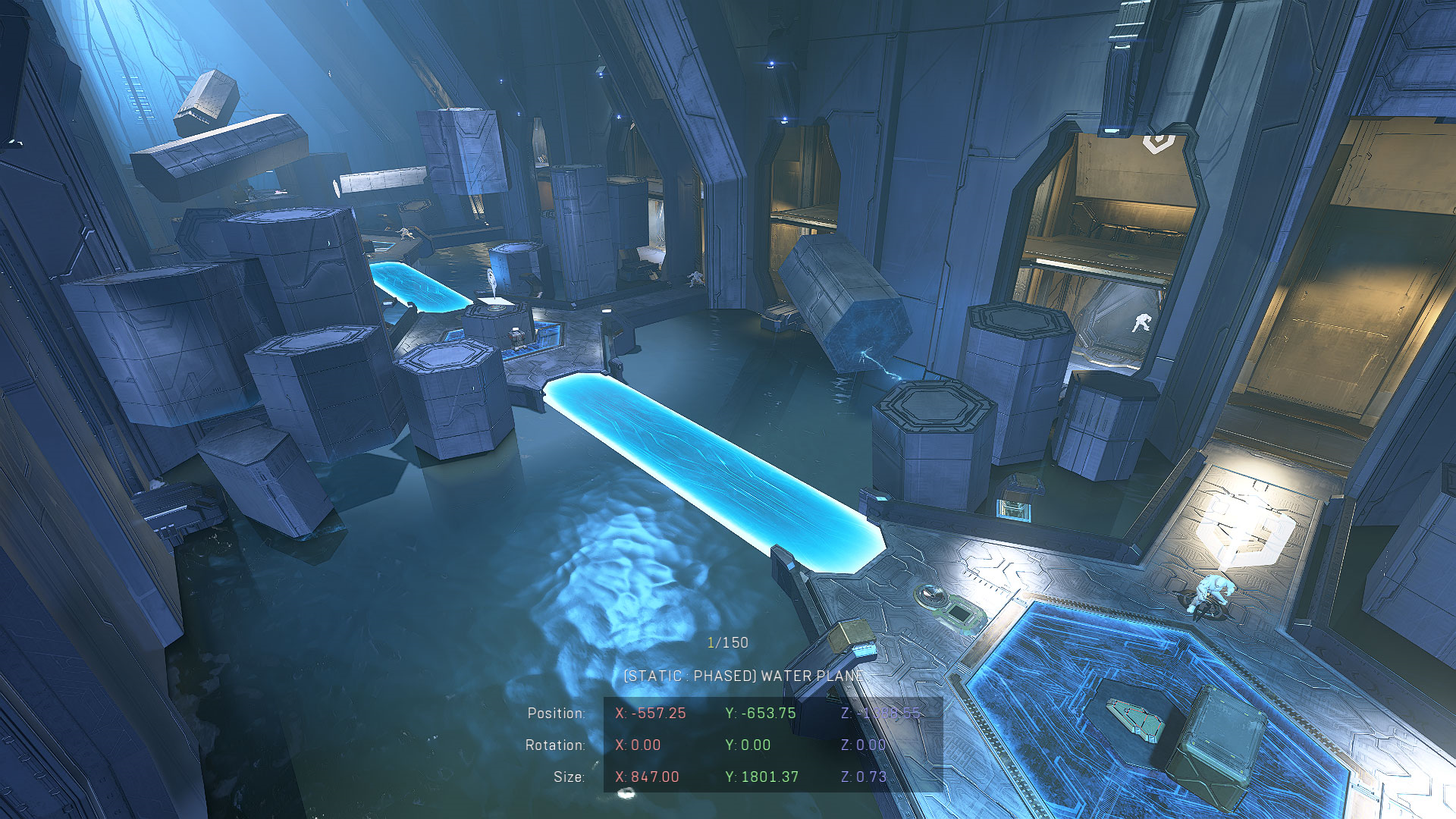 The Water Plane allows players to drastically change the environment of their own Forge map or existing 343 Industries maps.
Additional Forerunner Objects and Visual FX
Players now have access to new Forerunner-themed Forge assets and various visual FX. This includes the following object types:
28 placeable structure pieces
13 accent pieces (26 including MP variants)
97 decals (194 including Emissive variants)
77 Visual FX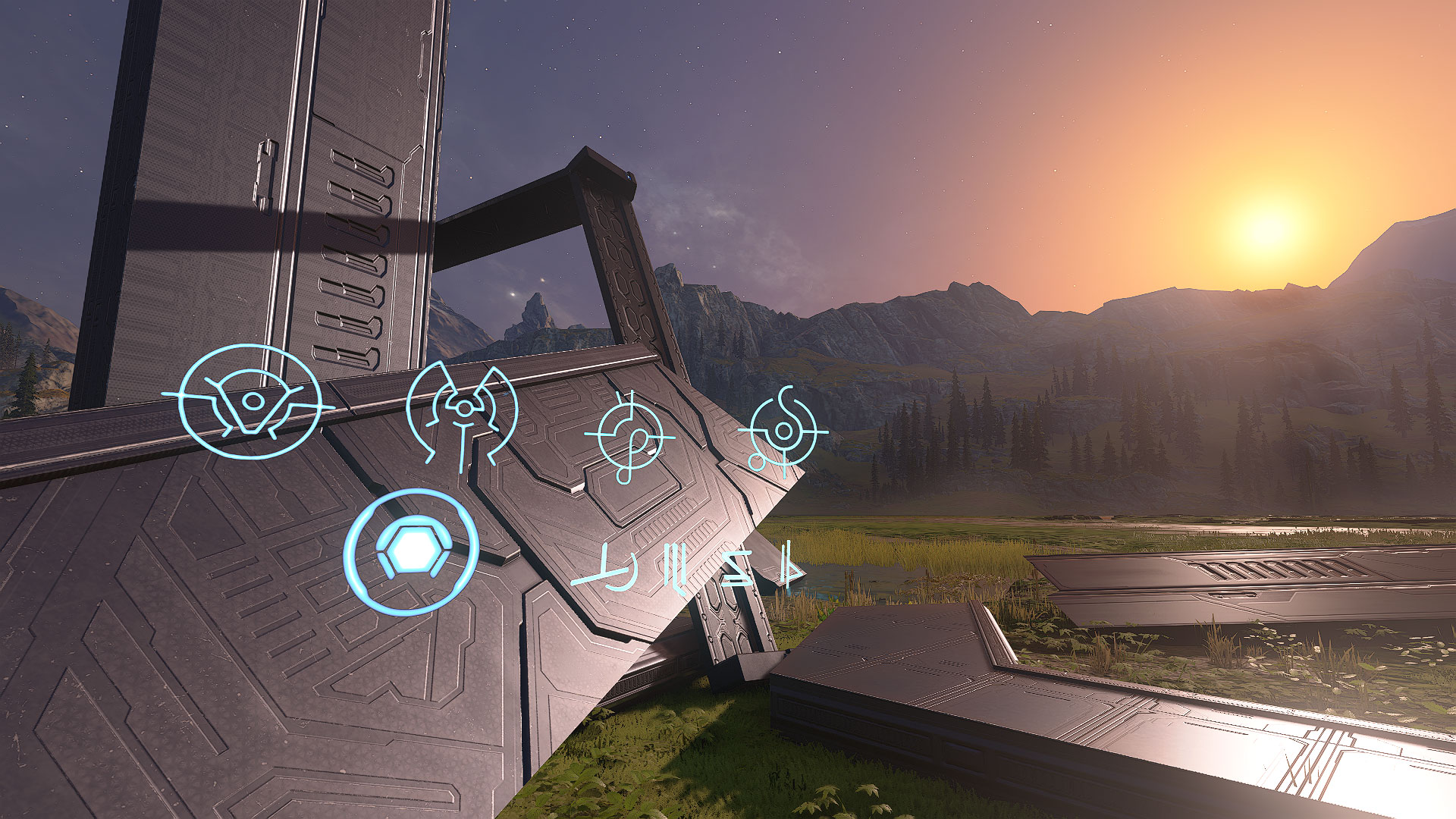 A selection of the new Forerunner objects on the Mires canvas. Visit the Forge Overview article to learn more about Forge mode.
Click on the accordion below to view the full list of these assets.
Full list of new Forerunner Objects and visual FX (325 items)
Structures
Floor
Slopes

Forerunner Ramp
Forerunner Wedge
Forerunner Stairs Connector
Forerunner Stairs XS
Forerunner Stairs S
Forerunner Stairs M
Forerunner Stairs L
Forerunner Stairs XL

Beams

Forerenner Beam X-Joint
Forerunner Beam Corner
Forerunner Beam T-Joint
Forerunner Beam

Bridges

Forerunner Infantry Bridge Angle Corner
Forerunner Infantry Bridge Chamfered Corner
Forerunner Infantry Bridge Elbow Corner
Forerunner Infantry Bridge

Columns

Forerunner Column Square
Forerunner Column Round

Walls

Forerunner Wall
Forerunner Window Wall
Forerunner Wall Corner

Cover

Forerunner Cover Half
Forerunner Cover Full

Doors

Forerunner Spartan Doorframe
Forerunner Spartan Door
Forerunner Vehicle Doorframe
Forerunner Vehicle Door
Accents
Forerunner

Forerunner Catwalk Right A
Forerunner Catwalk Right B
Forerunner Catwalk Right C
Forerunner Catwalk Right D
Forerunner Catwalk Right E
Forerunner Platform 16 x 08 x 42
Forerunner Platform 18 x 06 x 46 Right A
Forerunner Platform 18 x 06 x 46 Right B
Forerunner Platform 10 x 06 x 48 Right
Forerunner Platform 12 x 10 x 42 Right A
Forerunner Platform 12 x 10 x 42 Right B
Forerunner Platform 06 x 10 x 44 Right
Forerunner Platform 12 x 04 x 56

Forerunner MP

Forerunner Catwalk Right A MP
Forerunner Catwalk Right B MP
Forerunner Catwalk Right C MP
Forerunner Catwalk Right D MP
Forerunner Catwalk Right E MP
Forerunner Platform 16 x 08 x 42 MP
Forerunner Platform 18 x 06 x 46 Right A MP
Forerunner Platform 18 x 06 x 46 Right B MP
Forerunner Platform 10 x 06 x 48 Right MP
Forerunner Platform 12 x 10 x 42 Right A MP
Forerunner Platform 12 x 10 x 42 Right B MP
Forerunner Platform 06 x 10 x 44 Right MP
Forerunner Platform 12 x 04 x 56 MP
Decals
Forerunner

Sigil A01
Sigil A01 Emissive
Sigil A02
Sigil A02 Emissive
Sigil A03
Sigel A03 Emissive
Sigil A04
Sigil A04 Emissive
Sigil A05
Sigil A05 Emissive
Sigil A06
Sigil A06 Emissive
Sigil A07
Sigil A07 Emissive
Sigil A08
Sigil A08 Emissive
Sigil A09
Sigil A09 Emissive
Sigil A10
Sigil A10 Emissive
Sigil A11
Sigil A11 Emissive
Sigil A12
Sigil A12 Emissive
Symbol B01
Symbol B01 Emissive
Symbol B02
Symbol B02 Emissive
Symbol B03
Symbol B03 Emissive
Symbol B04
Symbol B04 Emissive
Symbol B05
Symbol B05 Emissive
Symbol B06
Symbol B06 Emissive
Symbol B07
Symbol B07 Emissive
Symbol B08
Symbol B08 Emissive
Symbol B09
Symbol B09 Emissive
Symbol B10
Symbol B10 Emissive
Symbol B11
Symbol B11 Emissive
Symbol B12
Symbol B12 Emissive
Symbol B13
Symbol B13 Emissive
Symbol B14
Symbol B14 Emissive
Symbol B15
Symbol B15 Emissive
Symbol B16
Symbol B16 Emissive
Symbol B17
Symbol B17 Emissive
Symbol B18
Symbol B18 Emissive
Symbol B19
Symbol B19 Emissive
Symbol B20
Symbol B20 Emissive
Symbol B21
Symbol B21 Emissive
Symbol B22
Symbol B22 Emissive
Symbol B23
Symbol B23 Emissive
Symbol B24
Symbol B24 Emissive
Glyph C01
Glyph C01 Emissive
Glyph C02
Glyph C02 Emissive
Glyph C03
Glyph C03 Emissive
Glyph C04
Glyph C04 Emissive
Glyph C05
Glyph C05 Emissive
Glyph C06
Glyph C06 Emissive
Glyph C07
Glyph C07 Emissive
Glyph C08
Glyph C08 Emissive
Glyph C09
Glyph C09 Emissive
Glyph C10
Glyph C10 Emissive
Glyph C11
Glyph C11 Emissive
Glyph C12
Glyph C12 Emissive
Glyph C13
Glyph C13 Emissive
Glyph C14
Glyph C14 Emissive
Glyph C15
Glyph C15 Emissive
Glyph C16
Glyph C16 Emissive
Glyph C17
Glyph C17 Emissive
Glyph C18
Glyph C18 Emissive
Glyph C19
Glyph C19 Emissive
Glyph C20
Glyph C20 Emissive
Glyph C21
Glyph C21 Emissive
Glyph C22
Glyph C22 Emissive
Glyph C23
Glyph C23 Emissive
Glyph C24
Glyph C24 Emissive
Glyph C25
Glyph C25 Emissive
Glyph C26
Glyph C26 Emissive
Glyph C27
Glyph C27 Emissive
Glyph C28
Glyph C28 Emissive
Glyph C29
Glyph C29 Emissive
Glyph C30
Glyph C30 Emissive
Glyph C31
Glyph C31 Emissive
Glyph C32
Glyph C32 Emissive
Glyph C33
Glyph C33 Emissive
Glyph C34
Glyph C34 Emissive
Glyph C35
Glyph C35 Emissive
Glyph C36
Glyph C36 Emissive
Glyph C37
Glyph C37 Emissive
Glyph C38
Glyph C38 Emissive
Glyph C39
Glyph C39 Emissive
Glyph C40
Glyph C40 Emissive
Glyph C41
Glyph C41 Emissive
Glyph C42
Glyph C42 Emissive
Glyph C43
Glyph C43 Emissive
Glyph C44
Glyph C44 Emissive
Glyph C45
Glyph C45 Emissive
Glyph C46
Glyph C46 Emissive
Glyph C47
Glyph C47 Emissive
Glyph C48
Glyph C48 Emissive
Glyph C49
Glyph C49 Emissive
Glyph C50
Glyph C50 Emissive
Glyph C51
Glyph C51 Emissive
Rune Set 01
Rune Set 01 Emissive
Rune Set 02
Rune Set 02 Emissive
Rune Set 03
Rune Set 03 Emissive
Rune Set 04
Rune Set 04 Emissive
Rune Set 05
Rune Set 05 Emissive
Rune Set 06
Rune Set 06 Emissive
Rune Set 07
Rune Set 07 Emissive
Rune Set 08
Rune Set 08 Emissive
Rune Set 09
Rune Set 09 Emissive
Rune Set 10
Rune Set 10 Emissive
FX
Lens Flares

Forerunner Lens Flare Medium
Lensflare Horizontal Sharp
Lensflare Horizontal Flicker
Lensflare Horizontal Soft
Lensflare Horizontal Soft Flicker
Lensflare Sharp
Lesnflare Sharp Flicker
Lensflare Soft
Lensflare Soft Flicker
Lensflare Vertical Sharp
Lensflare Vertical Sharp Flicker
Lensflare Vertical Soft
Lensflare Vertical Soft Flicker

Light Rays

God Rays
Light Rays Shimmer
Light Rays Single
Light Rays Shimmer Single Sharp
Light Rays Shimmer Single Soft
Light Rays Shimmer Soft
Light Rays Static
Light Rays Static Sharp
Light Rays Static Single
Light Rays Static Single Sharp
Light Rays Static Single Soft
Light Rays Static Soft

Energy

Forerunner Ambient Energy Fast
Forerunner Ambient Energy Linger
Forerunner Energy Burst Small
Forerunner Energy Burst Medium
Forerunner Energy Burst Large
Forerunner Energy Column
Forerunner Energy Column Whispy
Forerunner Laser Curtain Activate Small
Forerunner Laser Curtain Activate Medium
Forerunner Laser Curtain Activate Large
Forerunner Laser Curtain Activate Extra Large
Forerunner Laser Curtain Small
Forerunner Laser Curtain Medium
Forerunner Laser Curtain Large
Forerunner Laser Curtain Extra Large
Forerunner Energy Fire 01 Small
Forerunner Energy Fire 01 Medium
Forerunner Energy Fire 01 Large
Forerunner Energy Fire 01 Extra Large
Forerunner Energy Fire 02 Small
Forerunner Energy Fire 02 Medium
Forerunner Energy Fire 02 Large
Forerunner Energy Fire 02 Extra Large
Forerunner Energy Fire 03 Small
Forerunner Energy Fire 03 Medium
Forerunner Energy Fire 03 Large
Forerunner Energy Fire 03 Extra Large
Forerunner Energy Fire 04 Small
Forerunner Energy Fire 04 Medium
Forerunner Energy Fire 04 Large
Forerunner Energy Fire 04 Extra Large
Forerunner Energy Ring Inward
Forerunner Energy Ring Outward
Forerunner Energy Ring
Forerunner Energy Pane Small
Forerunner Energy Pane Medium
Forerunner Energy Pane Large
Forerunner Energy Pane Extra Large
Forerunner Energy Stream Long 01
Forerunner Energy Stream Long 02
Forerunner Energy Stream Short 01
Forerunner Energy Stream Short 02
Forerunner Totem Energy Ring
Forerunner Beacon Flare
Forerunner Beacon Flare Large
Forerunner Beacon Flare Extra Large
Forerunner Beacon Large
Forerunner Beacon Pulse Large

Holograms

Forerunner Holograms Data Circle
Forerunner Holograms Data Cloud
Forerunner Holograms Pillar
Forerunner Holograms Pillar Glow
Universal Blocker Objects
A new set of Universal Blocker objects are being added to Forge. This will give Forge creators a more efficient means of preventing players from exploiting the boundaries of the map, without having to place individual types of Blocker objects. Universal Blockers will block incoming players, vehicles, and projectiles.
Visual Effects Scaling
There is now an FX Scale option under the Visuals section of the Object Properties menu that allows players to adjust the size of any visual effect in Forge, such as flames and explosions. Players can also scale the damage and audio output options for visual effects, meaning that Forge creators can control whether a visual effect produces sound or deals damage to other players.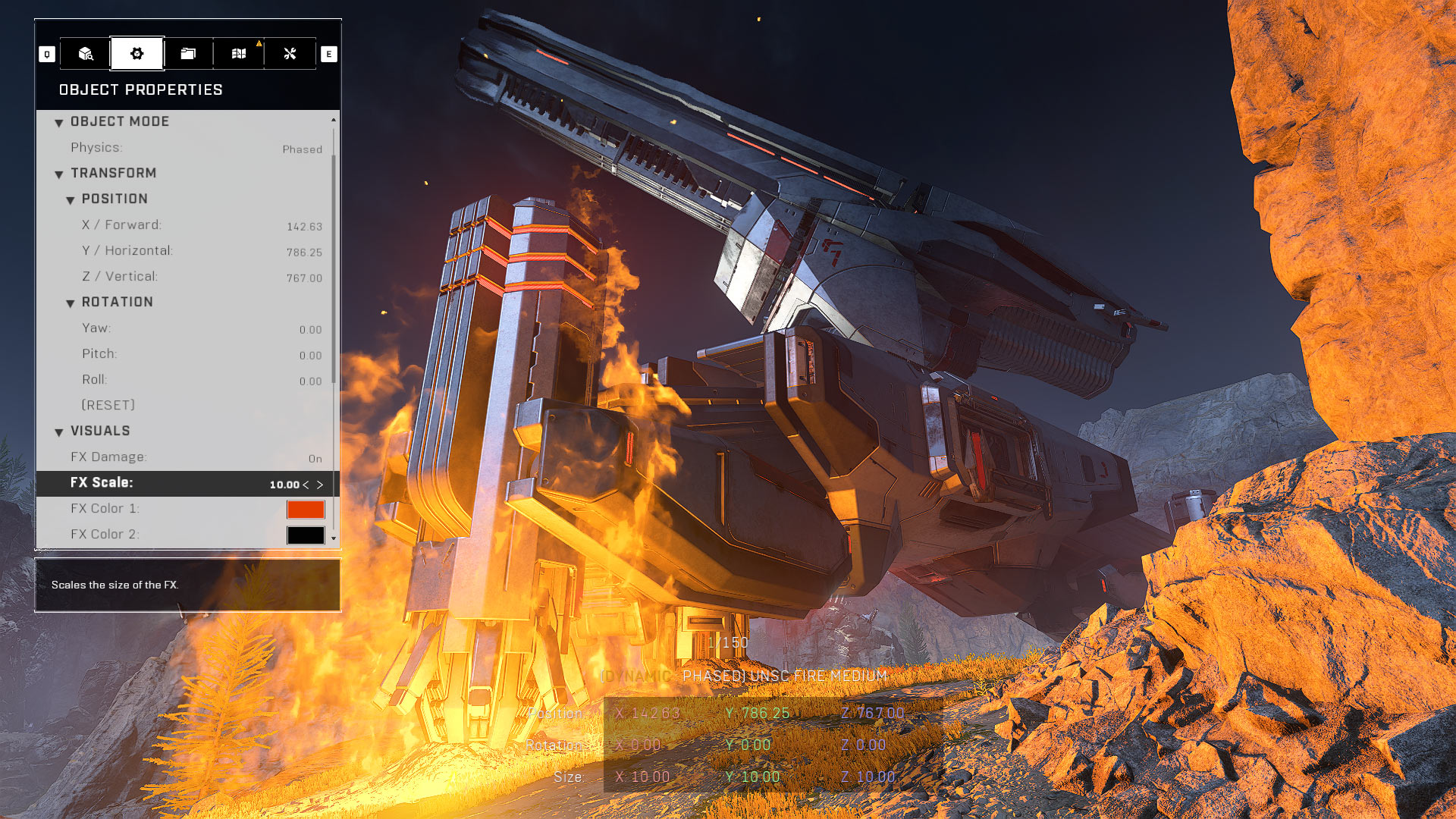 Increasing the scale of visual effects, such as fire, can also produce more dramatic lighting in Forge maps.
Budget Menu Improvements
The Budget meter in Forge has been visually updated with new budget categories, outlining the number and type of each individual Forge object placed on the map.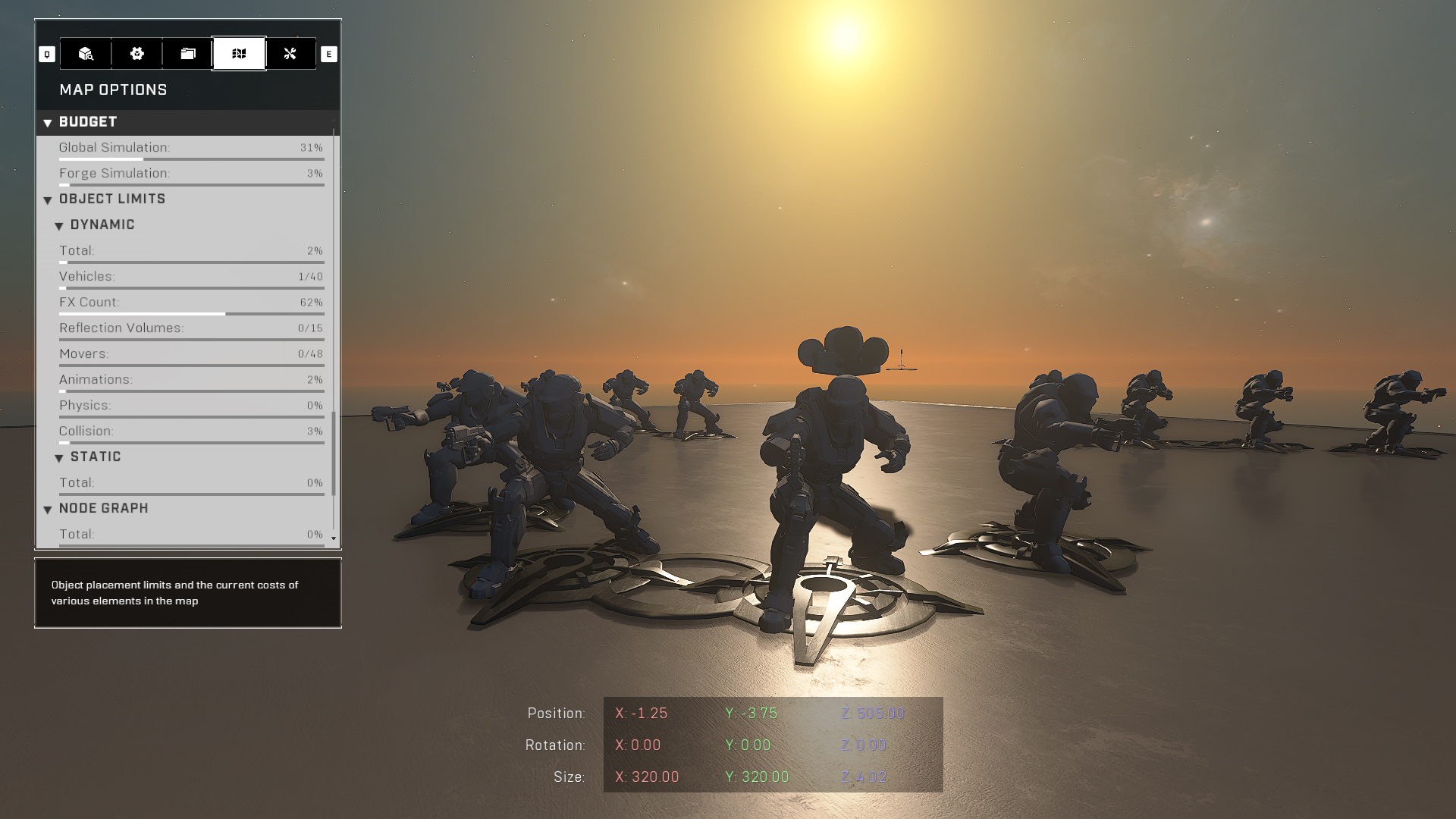 New meters have been added to distinguish the number of different object types that have been placed on the map.
New Budget categories include:
Global Simulation: the overall cost of entities networked by the game, including dynamic objects, projectiles, units, actions, etc.
Forge Simulation: the total cost of Forge resources placed on the map, such as dynamic objects, static objects, Node Graphs, etc.
Object Limits

Dynamic

Total
Vehicles
FX Count
Reflection Volumes
Movers: number of movers placed on the map. This is a hard limit and cannot be exceeded.
Animations: number of animation states used by objects placed on the map. This is a hard limit and cannot be exceeded.
Physics: current percent usage of the total physics budget. This is a soft limit and can be exceeded, but doing this may have a negative impact on performance and some objects may stop working correctly.
Collision: current percent usage of the total Collision budget. This is a soft limit and can be exceeded, but doing this may have a negative impact on performance and some objects may stop working correctly.

Static

Node Graph

Total: the total percentage of Node Graph content currently contributing to the Simulation Memory.

Scripting Budget: each script brain has limits on how many nodes and node connections it can contain.
Run Time Budget: allows players to track the number of run time objects, such as audio effects and nav points, added to any given Forge map. When run time budgets are exceeded, more instances of that type of entity cannot be created.
Raytraced Sun Shadows for Xbox Series X|S consoles
Players on Xbox Series S and Xbox Series X are now able to toggle Raytraced Sun Shadows from the Settings menu. When this feature is enabled, all shadows cast by the sun will appear more detailed in multiplayer gameplay. The Raytraced Sun Shadows option does not apply to the Halo Infinite Campaign.
In some situations, enabling this option may result in the framerate dipping below the selected Target Frame Rate value.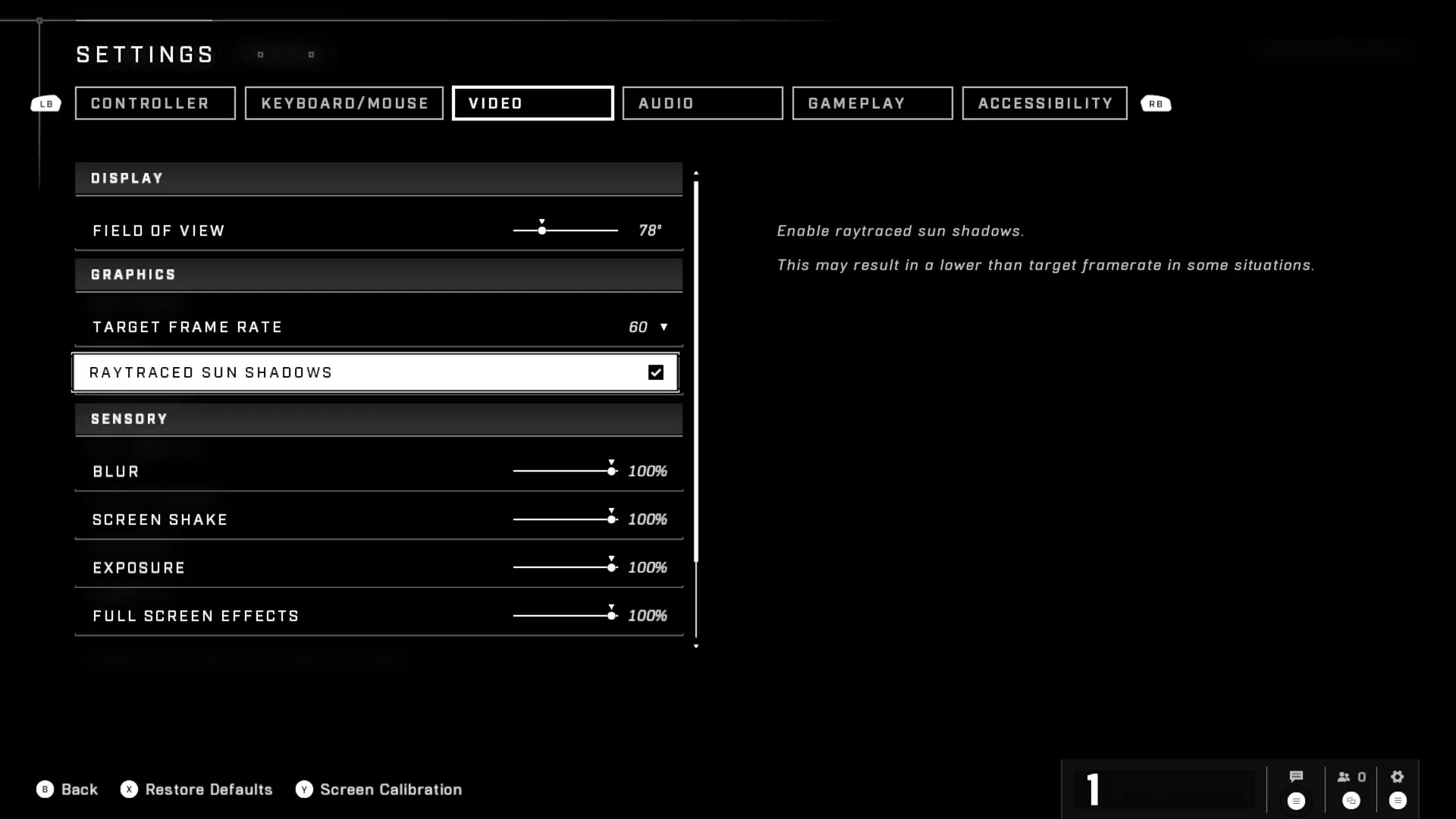 The Raytraced Sun Shadows option can be found under the Graphics header in the Video tab of the Settings menu.
To enable Raytraced Sun Shadows, follow the steps below:
Launch Halo Infinite.
Navigate to Settings. The default bindings for which are the Menu button on controller and F1 on keyboard.
Navigate to the Video tab.
Scroll down to the Raytracing header and set the Raytraced Sun Shadows option to the preferred setting.
Menu Improvements
Several changes and enhancements have been made to numerous menus within Halo Infinite. This includes:
Campaign TacMap Update
If players complete a Campaign mission on the Legendary difficulty with all Skulls on (also known as "LASO"), it will be marked as Completed+ under the Mission List section of the TacMap, as opposed to just Completed. Once every Campaign Mission is marked as Completed+, players will earn the Headmaster achievement.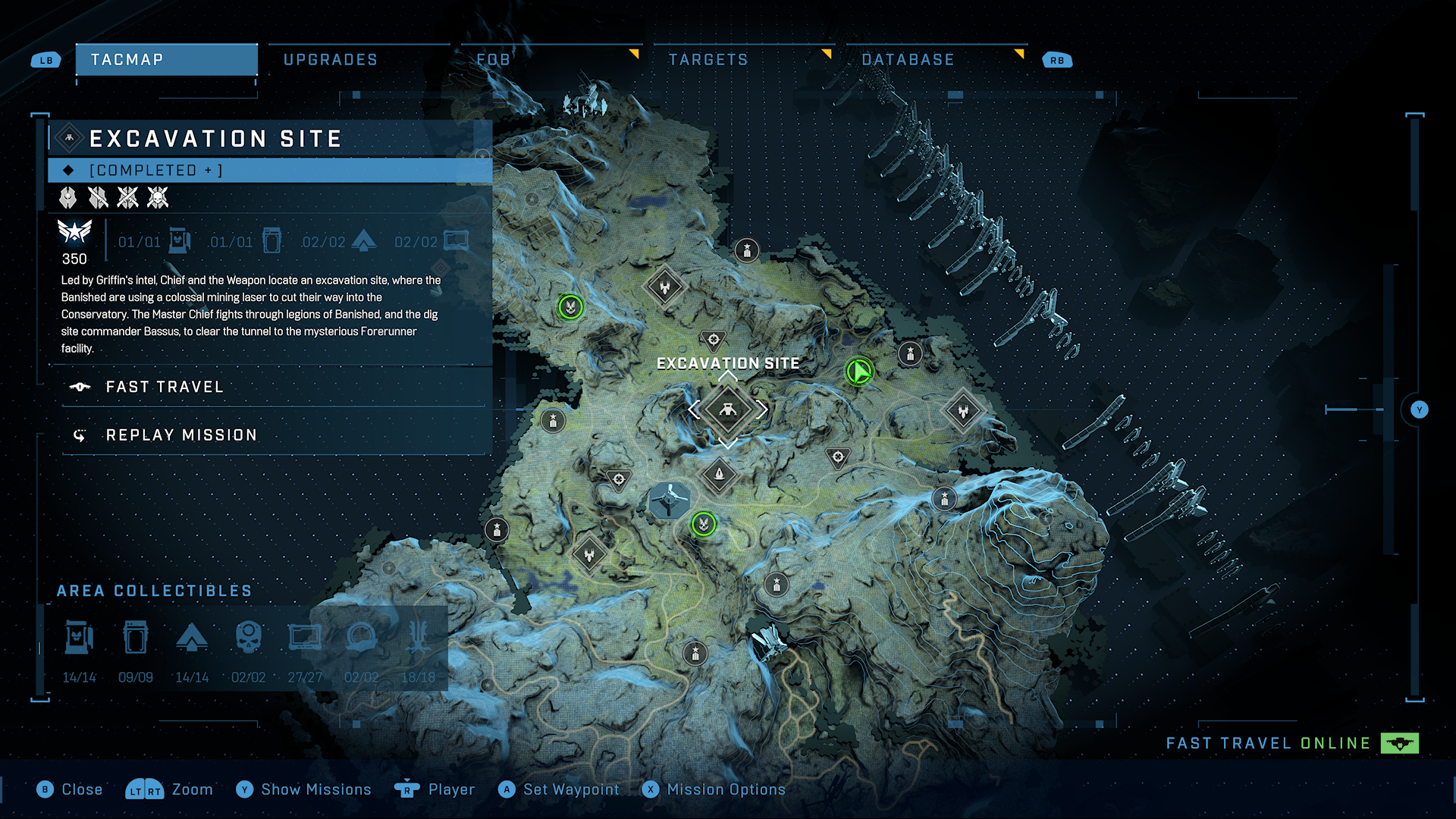 Missions completed on Legendary with All Skulls On (also known as "LASO") are now marked as "Completed+" on the TacMap menu. This can be seen underneath the mission's title in the top left corner of the screen.
Campaign Installation Changes
Alongside this update, the team is making changes to backend systems related to the installation of the Halo Infinite Campaign. Our goal is to improve the development of future Multiplayer updates by minimizing the potential for unexpected issues or instability in Campaign.
This effort requires that all previously shared files between Campaign and Multiplayer are no longer shared, meaning this change will increase the overall installation size of Halo Infinite.
In addition, accessing or leaving the Halo Infinite Campaign menu now requires a loading screen. Due to this loading screen, Fireteams switching between the Multiplayer and Campaign menus will need to leave then re-form their Fireteam.
To learn more about this change, visit the Campaign Installation Changes FAQ article.
New Zoom Reset Behavior Option
The Zoom Reset Behavior option is now available in the Settings menu. This allows players to dictate which zoom level they start with while zooming in with a scoped weapon.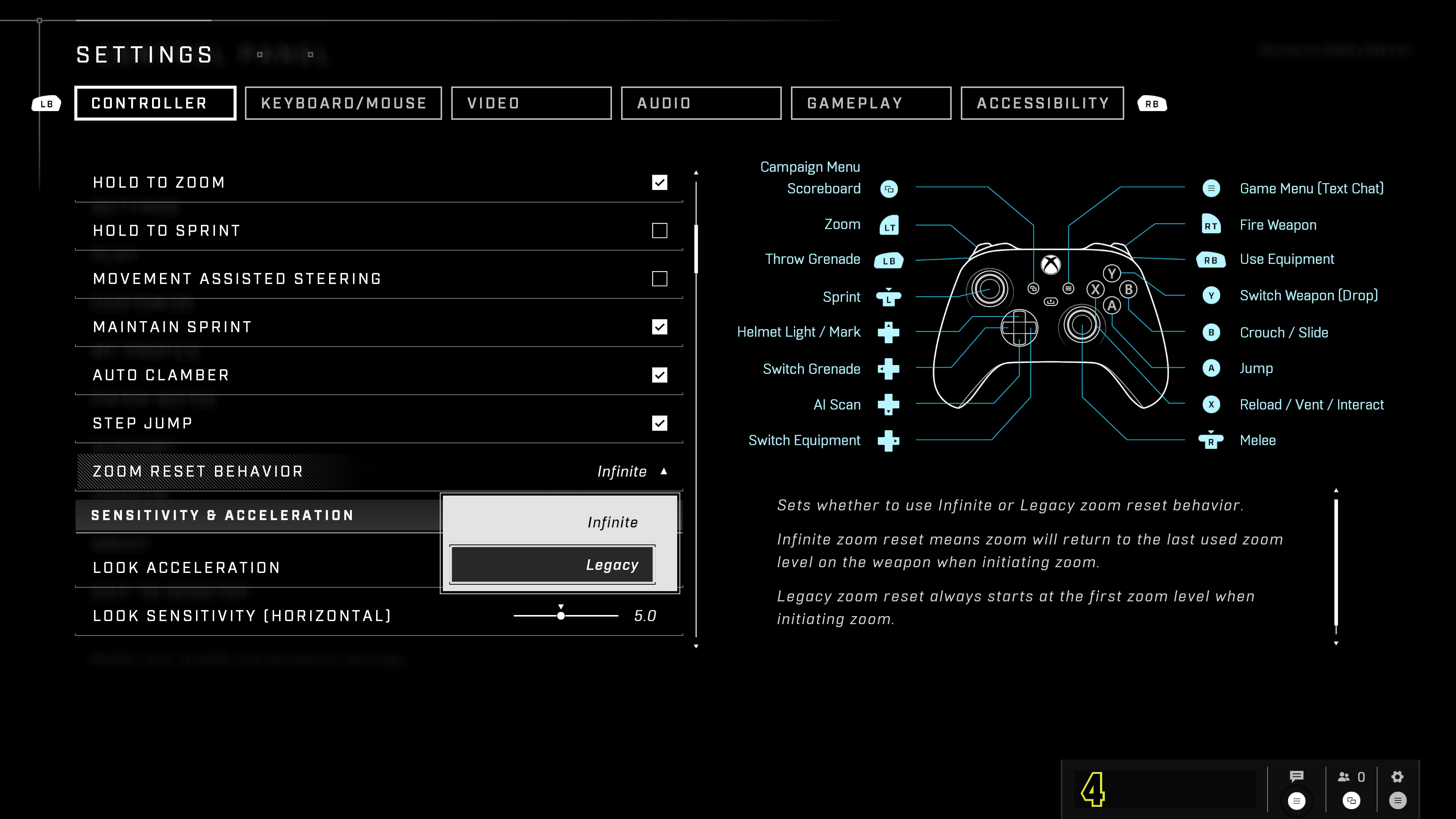 The Zoom Reset Behavior option can be found under the Movement & Aiming header of the Controller and the Keyboard/Mouse tabs of the Settings menu.
There are two different settings for players to enable:
Infinite Zoom Reset: initiating zoom returns to the last used zoom level on that weapon.
Legacy Zoom Reset: initiating zoom always starts at the first zoom level.
New Reporting Categories for Forge Content
When reporting Forge content, players can now select from a list of categories that specify different reportable offenses, such as discriminatory language, sexual content, extreme violence, and other violations.
Players will also be able to specify where they are seeing the harmful content by selecting from three additional options. These include:
Associated Images: refers to preview images of the reported Forge Asset.
Associated Text: refers to the name or description of the reported Forge Asset given in the Details menu.
Map Design or Objects: refers to the 3D environment or models of the reported Forge Asset.
To report a piece of Forge content, follow the steps below:
Launch Halo Infinite.
From the main menu, select the Community tab.
Under Community File Share, select Browse All.
Select the Forge Asset you wish to report.
Press the Report button from the list on the left side menu.
Select the violation type and where you're seeing the harmful content.
Shop Menu Improvements
The Shop tab now features more bundle tiles than before, and some tile sizes have increased to better show bundled items. Players can now view additional customization items by scrolling to the right.
Additionally, "super bundles" (introduced in Season 3: Echoes Within) in the Shop will now be listed alongside the smaller bundles they contain.
For more information on this change and other Shop changes, visit the Season 4 Customization blog on Halo Waypoint.
Indicator for New Customization Items
In the Customization menus, recently unlocked customization items are now identified by a yellow triangle in the top right corner of the item's tile. Menu options with new unlocks available within will also have a yellow triangle in the top right corner to help guide players to their new items.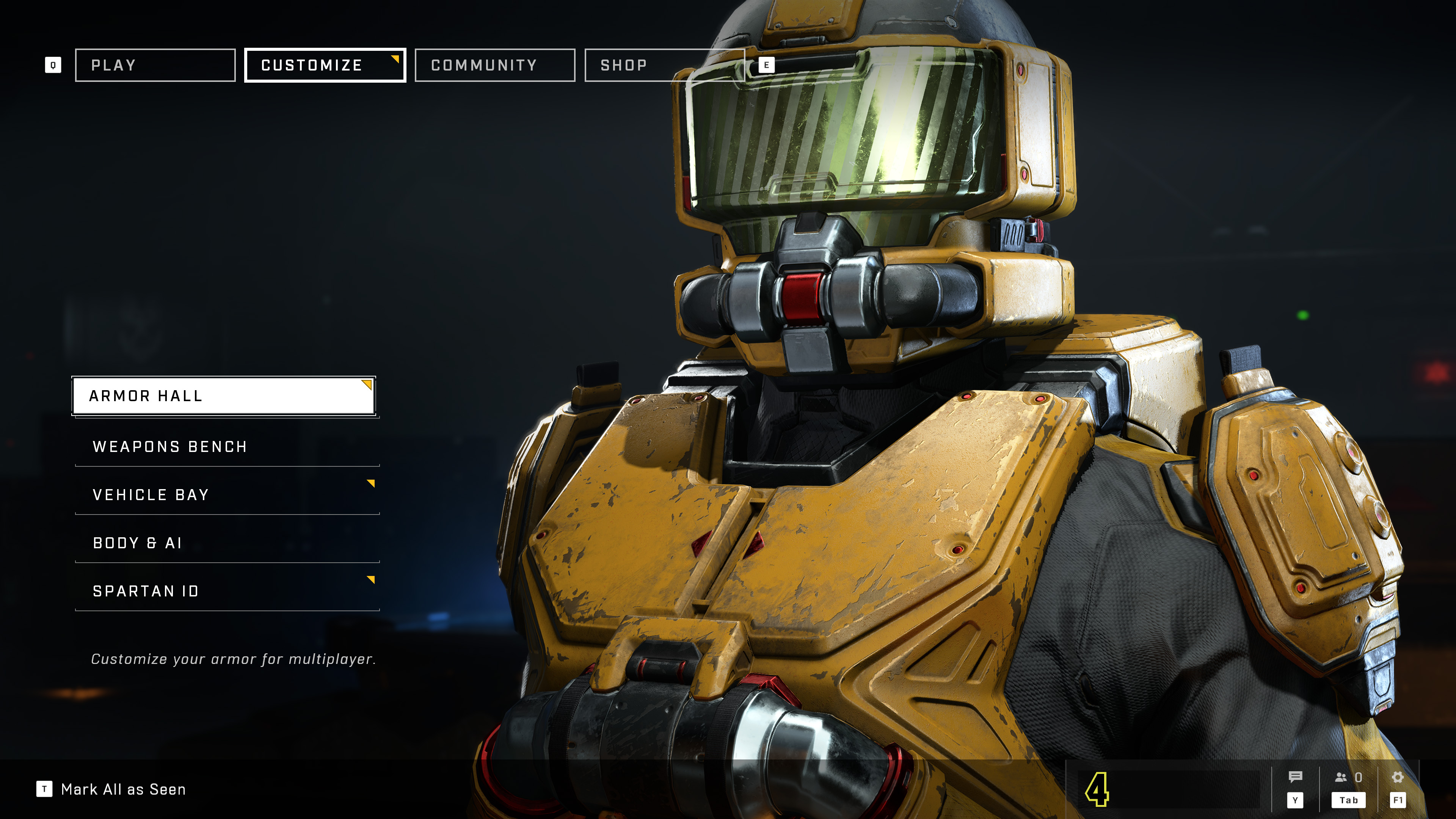 The yellow triangles will disappear once the new item has been viewed, or they can be dismissed by using the "Mark All as Seen" shortcut listed at the bottom of the Customize menu.

Balance Change
Threat Sensor
To better align with the behavior of the Threat Seeker, the number of Threat Sensor pings, as well as how long enemy outlines appear has decreased, while the radius and number of seconds the Threat Sensor is active for have increased.
We made changes to the Threat Sensor to give it more of a place alongside the Threat Seeker.
The goal of these changes was to create more location-based marking, giving more permanence and coverage to the sensor by increasing its duration and sensing radius. The time each target is revealed was decreased to give more focus on sensing threats within the radius of the sensor, not creating a long-lasting mark as seen with the Threat Seeker, which is more single target focused.
Ping Frequency: 2.8 > 1.8 seconds
Sensor Radius: 3.1wu -> 4.25wu (world units)
Sensor Duration: 6.5 -> 15 seconds
Reveal Duration (how long a target stays revealed): 2.5 -> 0.75 seconds

Resolved Issues and Bug Fixes
Many improvements come from Halo Insider and Halo Support tickets submitted by our community. Thank you for participating and please keep submitting tickets!
Halo Support tickets help the team here at 343 Industries understand what issues you would like to see addressed in future Halo Infinite updates. The development team is actively working on a variety of game updates and improvements based on both player feedback and bug report tickets.
If you experience a crash in Halo Infinite, please include as much of the following information as possible:
Step-by-step instructions on what caused the crash. The more specific, the better!
Attach an up-to-date DxDiagfile. To create a DxDiagfile, type "dxdiag" into the Start menu's search bar, press the Enter key, then click "Save All Information" when the DirectX Diagnostic Tool pops up.
Include the Problem Report from the Control Panel app. To find this, open the Control Panel and enter "problem reports" in the search bar. Click "View all problem reports" then locate the recent Halo Infinite report. Double click on this Halo Infinite entry then use the "Copy to clipboard" button near the bottom of the window. Finally, paste this text into your ticket's comments.
Global
Changes have been made to how game settings are loaded, which will allow the developers to better address issues tied to game settings in future updates.
The indicators for the left and right Outer Deadzone trigger settings now align consistently with their default placement in the Controller settings.
Loading screen tips now consistently maintain their size and formatting.
Unplugging a wired mouse from an Xbox console now consistently results in the mouse cursor disappearing.
Improved stability for Xbox consoles after using Quick Resume or after the game has been suspended.
Campaign
A Plasma Cannon Turret now consistently spawns during the mission Banished Warship Gbraakon, allowing players the chance to unlock the "Mix Things Up" achievement.
The door to the Chak 'Lok boss fight in the mission The Tower will no longer become stuck if players exit and relaunch Halo Infinite multiple times during the mission.
Multiplayer
Gameplay
The Perfect medal can now be unlocked consistently using the VK78 Commando Rifle.
Players are now less likely to become stuck on a loading screen when joining an in-progress multiplayer match.
The 3-capture variant of Capture the Flag (CTF) that was removed from the Ranked Arena playlist in June 2023 has been re-added to the playlist. The underlying issue causing this mode to affect Competitive Skill Rank (CSR) rewards has been addressed.
Various performance improvements, especially for high-spec PCs using lower graphics quality options.
If a minimum frame rate value is set on PC, the dynamic resolution scaling will now increase from the minimum resolution faster than before.
Menus
Players are now able to connect more consistently to Halo services upon launching the game.
Once players complete their final Ranked placement match, the images for Ranked Rewards now consistently appear on the Rank-Up screen.
The Purchase Rewards screen no longer shows the title and insignia of a different Battle Pass after players purchase the Premium Edition of an already completed Battle Pass.
The correct Rewards screen now displays once players purchase a Premium Battle Pass from any Season.
When attempting to purchase a Premium Battle Pass, the messaging now displays the correct number of XP Grants that come included with the Battle Pass.
Purchased items are now immediately reflected as unlocked after completing a bundle purchase in the Customize menu.
After leaving a Custom Game or Forge session, map thumbnails in the Custom Game Browser or Forge menus now load consistently.
Using the Repulsor no longer results in the player's Accuracy stat being lowered in the Post-Game Carnage Report.
A missing content warning now appears in the Forge menu, informing players that Forge is currently being installed.
An error message will now appear informing players that they cannot access Forge mode if they have their privacy settings set to block player-made content.
After navigating to the Match History menu in Theater mode and selecting a Filter option, players can now navigate back to the Match tiles.
After promoting another player to Fireteam leader, the previous Leader can no longer access settings available only to the Fireteam leader.
Thumbnail images for the maps featured in the Community Collection playlist now appear consistently.
Custom Games
The volume of the shield recharge sound effect now behaves in parity with the selected setting after modifying the Shield Recharge Time Scalar in Custom Games.
The Custom Game menu no longer shows the wrong map and mode selections after repeatedly switching between Forge and Custom Game sessions.
Weapon racks, vehicle, grenade, and Equipment pads now function as expected when playing King of the Hill on a Big Team Battle map in a Custom Game.
Players leaving a Custom Game then rejoining on the opposite team no longer results in the scoreboard listing incorrect Gamertags.
Modifying game rules in the Custom Game Mode Editor now consistently results in those changes being listed correctly in the Custom Game lobby menu.
Customs Browser
Thumbnail images will now load more consistently when viewing the Details menu of a Customs Browser session.
While in the Customs Browser menu, selected Tags will no longer appear in the Filters menu, unless players select Confirm.
When filtering by Gamertag in the Customs Browser menu, uppercase and lowercase Gamertags are now listed in alphabetical order.
Customization
Equipping helmet attachments to the Chimera Armor Core no longer results in the incorrect helmet appearing.
Audio previews for each Voiceprint available in the Spartan ID menu now consistently play whenever players select Preview Voice.
Previewing a Helmet Attachment included in a Shop bundle no longer shows the attachment on an incompatible helmet.
Customization items that were unlocked during previous Seasons are now consistently accessible to players via the Customize menus.
Various Nameplate palettes have been restored to their original colors.
The correct unlock date now appears consistently when viewing an unlocked Customization item after viewing a locked Customization item.
Forge
Edit Mode and Creation Tools
Both the Simulation Memory Budget and the Dynamic Object Limit meters now consistently display 100% once the maximum number of objects have been placed.
Forge sessions will no longer crash after players duplicate a Script Brain with a large number of Node Graphs attached to it.
Players signed in on the same Xbox console under different accounts will no longer be able to enter a Forge session together using split-screen.
Players can no longer move, edit, or delete Script Brains that are being worked on by other players.
Players can now undo and redo movement, rotation, and scaling commands after deselecting a modified object.
The magnet tool now behaves in parity with the axis the player has rotated the object towards.
The magnet wires connecting objects together are now consistently visible from different camera angles and distances.
Reflective Forge objects now reflect light consistently based on the light sources present on the map.
Players now teleport after entering the object boundary for the Teleporter object in Forge, as opposed to teleporting after standing directly on top of the Teleporter.
The Scratches and Grime values the player selected now appear consistently when viewing the Banished Wall Corner object type in Dynamic Object mode.
On the multiplayer map Catalyst, a Winning Team Outro object is no longer visible during Spartan Play mode.
Forerunner Primitive objects now scale correctly when using the Object Properties menu to adjust their Scale X, Y, or Z values.
The color of an object will no longer cycle between two different colors while players are selecting a new color from the Object Properties menu.
Any material changes made to a prefab object will now affect all objects included in the prefab.
Holding down the selection button in the Node Graph menu will now consistently select individual Node Graphs.
Improvements to Nav Mesh visuals flickering in Edit mode.

Some flickering may still be visible after this update.
File and Map Publishing
Exiting a Forge session without saving the map no longer results in a new version being listed in the map's Version History menu.
PC players can now consistently access Bookmarked maps without reverting back to a previously selected map.
After publishing a Forge file, the file's Details menu now immediately reflects that it has been published.
Newly created and saved Forge maps made by the player now appear consistently in the player's My Files menu.
Bookmarked maps will now consistently update whenever the creator publishes a new version of the map.
Autosaves will now trigger more consistently after a Forge session ends unexpectedly.
Players will no longer encounter a "Call Failed" error when attempting to disable Copy Protection on a Forge Asset.
Players can now add notes to each saved version of a Forge map from the pause menu.
Training Mode
The BR75 Battle Rifle is now consistently available in the Primary and Secondary Weapon settings via the Training Options menu in Training Mode.
The same weapon name no longer appears twice in the Primary and Secondary Weapon settings via the Training Options menu in Training Mode.

This applies to the following weapons: Energy Sword, Stalker Rifle, Shock Rifle, Heatwave, CQS48 Bulldog.

Known Issues
With this update, the team has added multiple new issues to our Known Issues lists:
Campaign
After completing any mission using Mission Replay on higher difficulties, the mission may not be marked as Completed on the Mission List section of the TacMap.
Multiplayer
After viewing all new Customization unlocks, the new item indicator on the Customize tab along the top of the main menu may not update to reflect all new items have been viewed.

Workaround: the new item indicator may disappear as expected after entering then backing out of any Customization sub-menu or after completing a Multiplayer match.

When previewing the Hazmat Haven Mythic Effect Set in the Shop or Armor Hall menus, the Repulsor Equipment may appear on the ground rather than on the Spartan's wrist.
The VK78 Commando Rifle's sight may appear opaque when using some of the new Weapon Coatings introduced in Season 4.
When Alpha Infected spawn or respawn during a game of Infection, the blade of their Energy Sword may disappear.
During an Infection match, turrets carried by the Last Spartan Standing will have infinite ammunition.
Players that survive a whole round of Infection without getting Infected do not receive bonus points for being Last Spartan Standing.
While playing Infection with bots on both the Streets and Aquarius maps, bots may be unable to exit from their designated spawn points.
If a player ended the previous round of Infection as the Last Spartan Standing then starts the next round as an Alpha Infected, they may spawn with the Survivor loadout rather than the Alpha Infected loadout.
At the start of a multiplayer match, the Sidekick will briefly appear without textures when players first swap to it.
Players will be unable to use the Quantum Translocator while picking up a new weapon.
When an enemy player activates the Threat Seeker, players caught in the Threat Seeker's pulse radius may still appear visible to enemy players a few seconds after the red bars disappear from their HUD.
If a player gets caught in the Threat Seeker's pulse radius, visual effects may not appear if the Full Screen Effects setting is set to 0%.
If a player is hurt by explosive weaponry, such as the Hydra or Scrap Cannon, it will cause the legs of their Spartan to flinch.
When reporting a mode created in Forge, the new reporting categories may not appear.

More Information About This Update
Many platforms automatically update games. To manually update or verify your game is up to date, follow the steps included in our How to Update Halo Infinite article.
Some of the improvements in this update required us to invalidate past Theater films created during Season 3. If you have moments you would like to save, please record them using a digital recording tool.
Forge file versions older than 30 days may be automatically deleted. Exceptions include:
The 10 most recent versions will never be deleted.
Published versions will never be deleted.
Locked versions will never be deleted.

Up to 30 different versions can be locked per Forge file.
To lock Forge file versions, follow the steps below:
Navigate to the Community tab of the main menu.
Select My Files.
Select a file to view its Details menu.
Scroll down on the lefthand side menu and select Version History.
To lock a file version, highlight a version in the Version History menu then select Lock on the righthand menu.
To learn more Halo Infinite and its development process, check out the following resources on Halo Support or Halo Waypoint:
Join the Halo Insider program for the chance to see new features before they're released publicly and, if you've encountered a bug in-game, submit a Halo Support ticket so that the development team can investigate the issue. Thank you to all Halo Insiders and ticket submitters for their bug reports and feedback!
Download Size by Platform
Xbox consoles: 88.5 GB or less
Microsoft Store app or Xbox app on PC: 71 GB or less
Steam: 31.7 GB or less
NOTE: Due to the Campaign installation changes detailed above, players with the Halo Infinite Campaign installed will have a download size larger than previous multiplayer season updates. Future updates will be in line with previous seasons.
Further Resources
If you experience problems with your Xbox console or Game Pass, Xbox Support can help you.
If you have problems with your account, Microsoft, or Xbox purchases, Microsoft Support can help you.
If you have problems with other purchases, please contact the retailer you purchased your game from.
If you experience a problem in Steam that is not an in-game issue, please contact Steam Support.
If you want a chance to participate in future Halo flights, sign up for the Halo Insider Program.