Updated: August 30, 2023
New Features
This update brings new content, numerous bug fixes, and several new features to Halo Infinite. For a full list of this update's bug fixes, see the Resolved Issues section below. New features and content included in this update are:
New Multiplayer Map: Dredge
A new Arena multiplayer map, Dredge, is now available in Custom Games and various matchmaking playlists.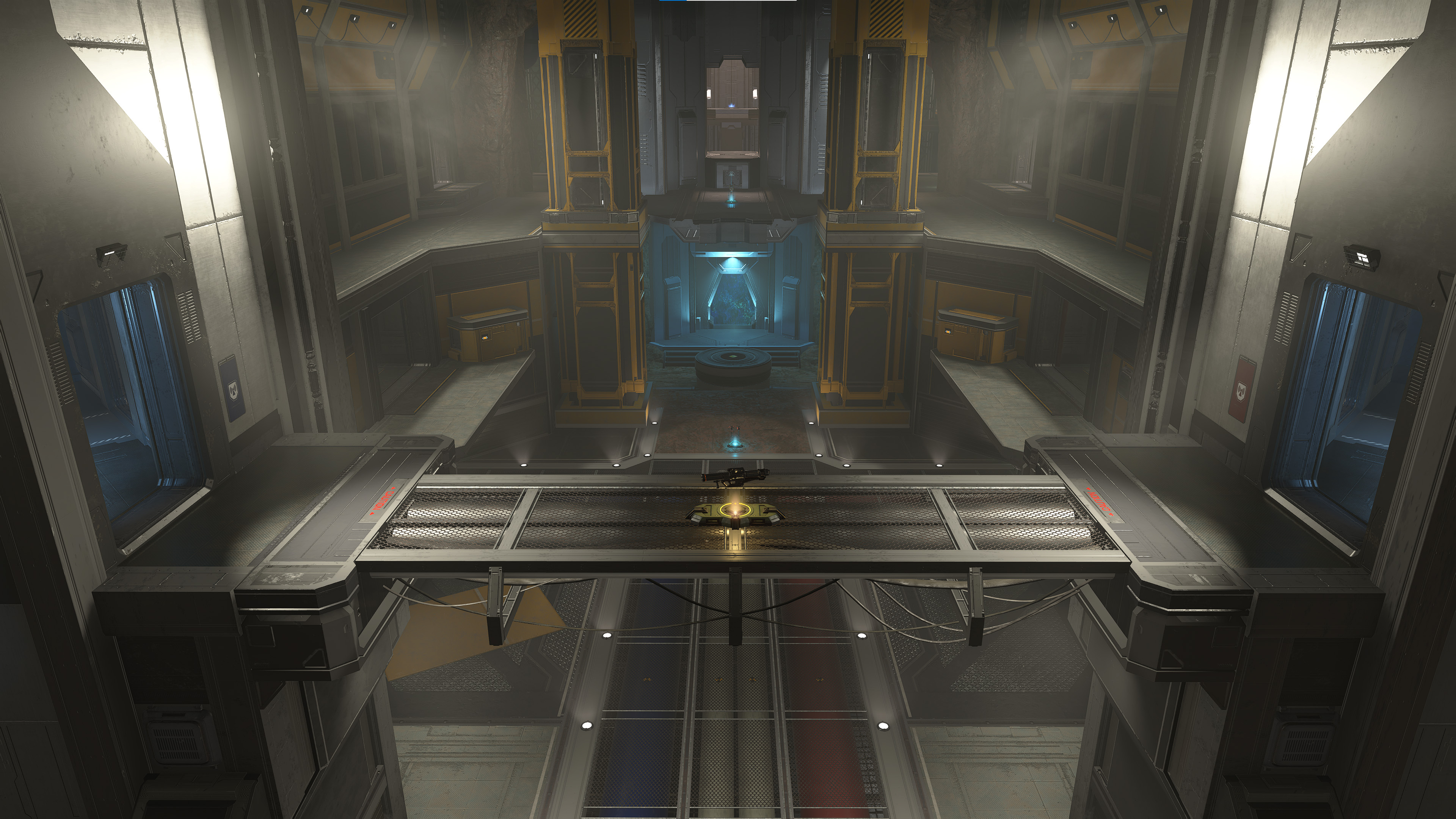 Screenshot of Dredge, which is based off the map Countdown from Halo: Reach.
Dredge was created in Forge and is based on the multiplayer map Countdown from Halo: Reach, albeit with tweaks for the Halo Infinite sandbox. For example, weapons now respawn via Weapon Racks and Equipment Pads are placed throughout the map.
To celebrate Dredge's addition, a new "Dredge 24/7" playlist featuring different game modes on the map is available in matchmaking. This playlist is currently scheduled to rotate out of matchmaking on August 22nd, 2023.
Death Cam Improvements
The following improvements have been made to the spectator camera used while respawning in a multiplayer match, also known as the "death cam":
Players can now rotate the camera while spectating other players.
Swapping between different players while spectating is now faster.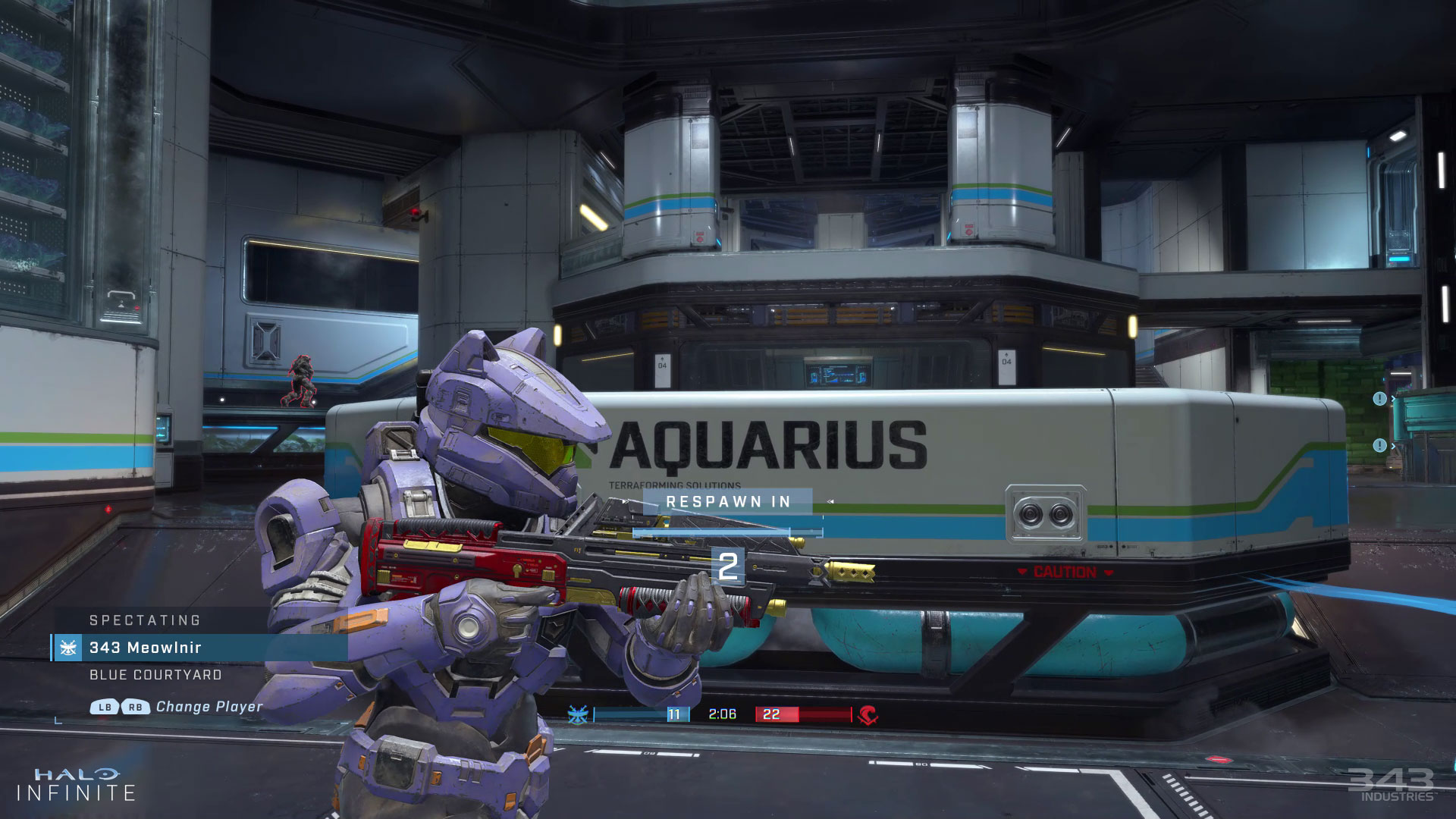 Screenshot of the spectator camera rotated away from its default angle.
Personal AI Dialogue Toggle
Personal AI dialogue can now be enabled or disabled using the new Personal AI Chatter option in the Settings menu. This will allow players to control whether or not their Personal AI speaks during multiplayer matches.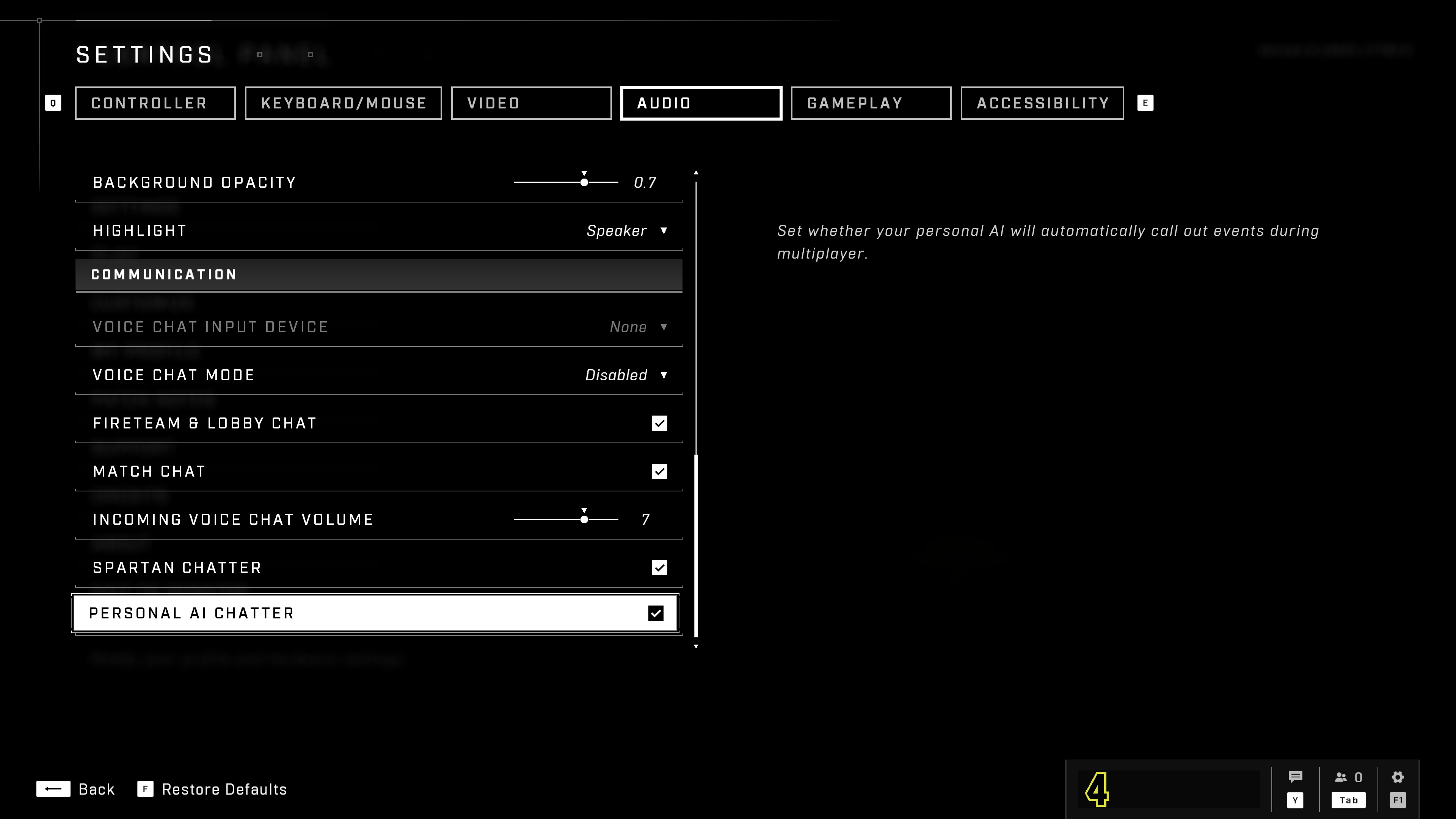 The Personal AI Chatter toggle can be found under the Communication header in the Audio tab of the Settings menu.
Forge Mode Improvements
Reactive Water Plane
Similar to the Water Plane object introduced in the Season 4 update, the new Reactive Water Plane object is a scalable object that players can add to their own Forge maps or existing 343 Industries maps. Unlike the previous Water Plane though, the Reactive Water Plane's surface responds dynamically to player collision, projectiles, and vehicles.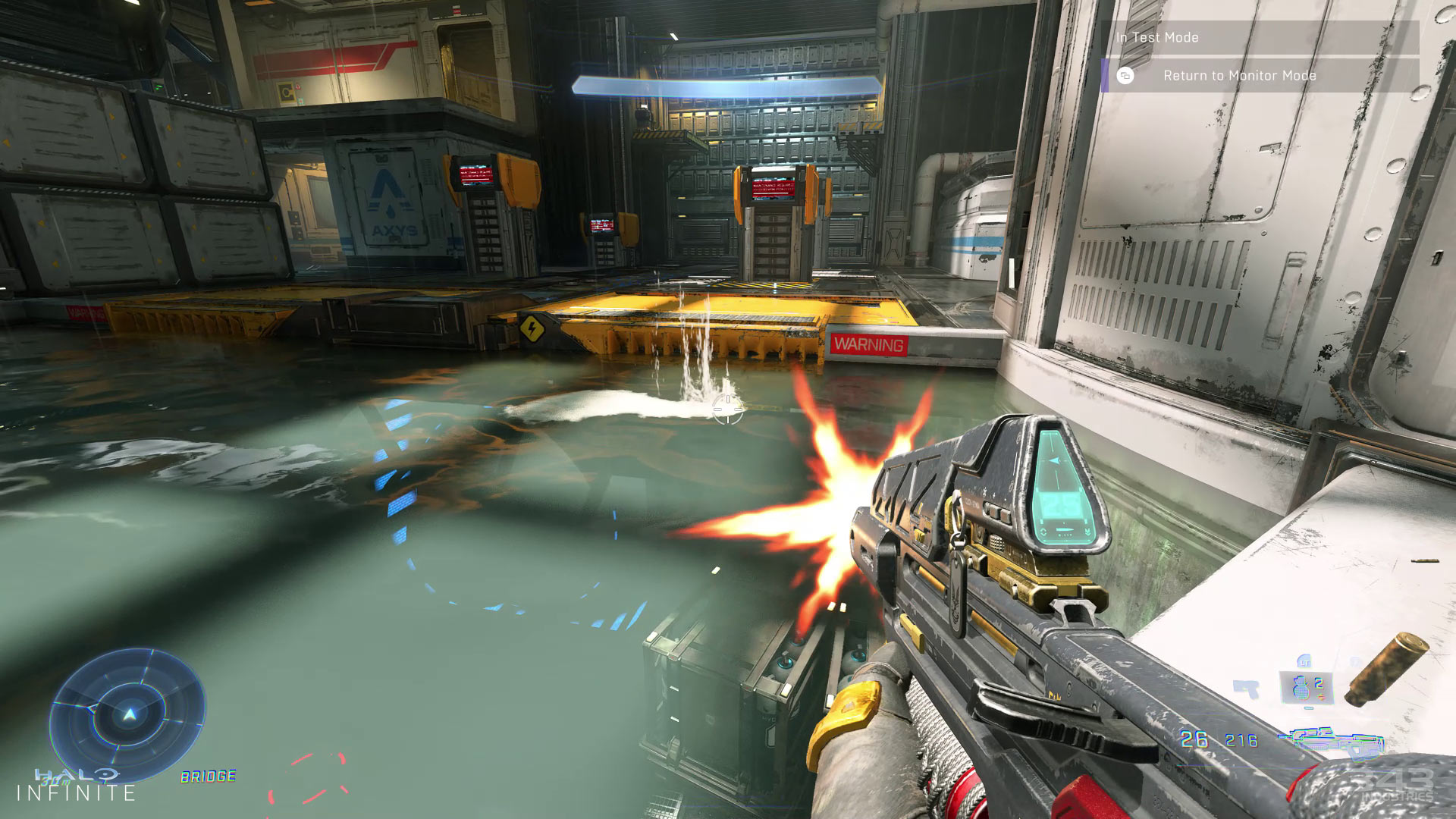 Screenshot of the Reactive Water Plane responding to a player firing an MA40 Assault Rifle at its surface.
The static Water Plane object will remain available as a separate object so that Forge creators can choose whether a body of water is decorative or reactive.
Collapsible Forge Menus
Players now have the option to expand or collapse every sub-menu featured in both the Forge Menu and the Node Graph Menu. This applies to all Folders, as well as the following menus:
Object and Node Browser
Object and Node Properties
Map and Graph Options
Tool Settings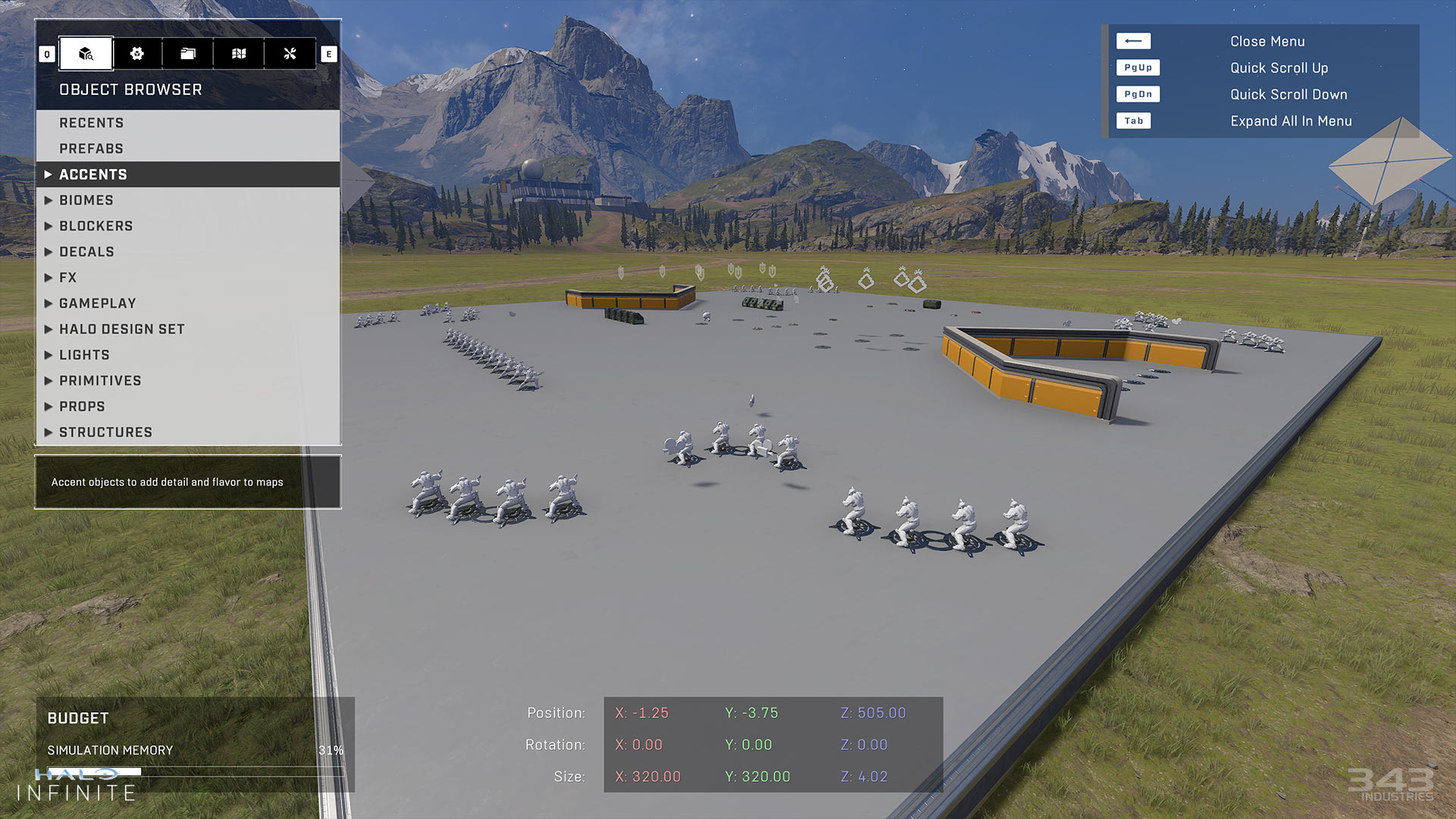 Screenshot of Forge's Object Browser menu with all of its sub-menus collapsed.
Observer Mode Improvements
The following improvements have been made to Observer mode in Custom Games:
Observers can now hear the in-game announcer's voice lines.
To improve legibility for both broadcasters and viewers, two new options are now available for the Event Feed: Background Mode and Background Opacity. Background Mode controls which Event Feed items have a background while the Opacity slider controls the transparency of the background.

These settings apply to the Event Feed both in and out of Observer Mode to increase legibility across the entire Halo Infinite Multiplayer experience.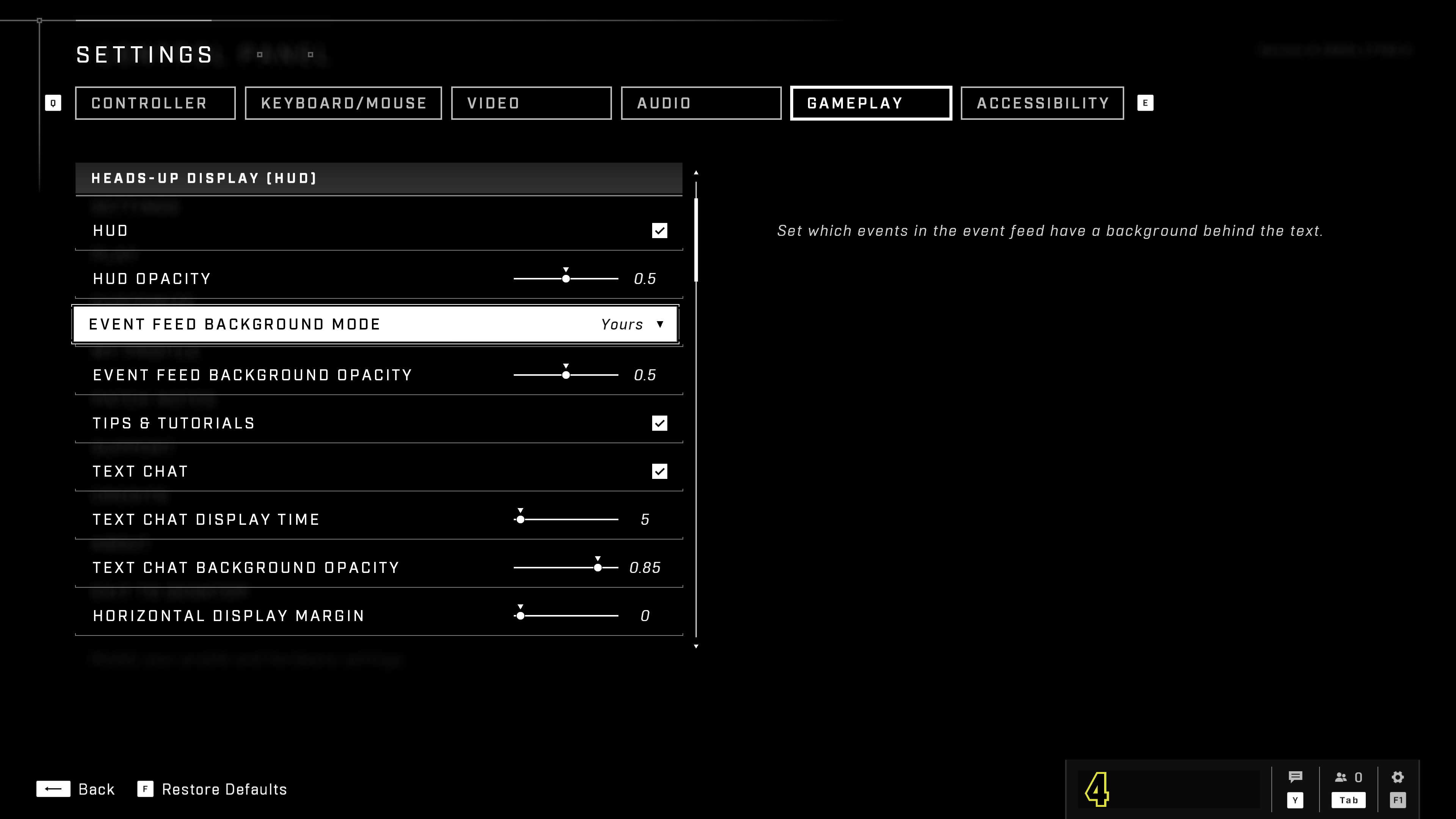 The Event Feed Background Mode and Background Opacity options can be found under the Heads-Up Display (HUD) header in the Gameplay tab of the Settings menu. The Background Mode options include None, Yours, or All.
Resolved Issues and Bug Fixes
Many improvements come from Halo Insider and Halo Support tickets submitted by our community. Thank you for participating and please keep submitting tickets!
Halo Support tickets help the team here at 343 Industries understand what issues you would like to see addressed in future Halo Infinite updates. The development team is actively working on a variety of game updates and improvements based on both player feedback and bug report tickets.
If you experience a crash in Halo Infinite, please include as much of the following information as possible:
Step-by-step instructions on what caused the crash. The more specific, the better!
Attach an up-to-date DxDiagfile. To create a DxDiagfile, type "dxdiag" into the Start menu's search bar, press the Enter key, then click "Save All Information" when the DirectX Diagnostic Tool pops up.
Include the Problem Report from the Control Panel app. To find this, open the Control Panel and enter "problem reports" in the search bar. Click "View all problem reports" then locate the recent Halo Infinite report. Double click on this Halo Infinite entry then use the "Copy to clipboard" button near the bottom of the window. Finally, paste this text into your ticket's comments.
Global
Frametime on 4K 120hz displays has been improved when playing Halo Infinite on an Xbox Series X|S console with Dolby Vision enabled.
Players will now reconnect to online services more consistently after using Quick Resume.
The High-Res Texture Pack is no longer automatically downloaded when installing Halo Infinite from the Microsoft Store app or the Xbox app for PC.

Resolved two common crashes that occurred in the main menus.
Campaign
Completing the mission Outpost Tremonius on a higher difficulty via Mission Replay will now consistently result in the TacMap menu reflecting the new highest difficulty completed.
Destroying a Ghost that is hanging from the bottom of a Phantom is now less likely to result in a crash.
Multiplayer
Gameplay
Sprinting then sliding down a slope no longer results in players coming to an abrupt stop.
Weapon Charms are now less likely to detach from a weapon after players remain idle in gameplay.

When entering a Big Team Battle match, Fireteam members will now appear together during the match's opening camera sequence and see one another's Pings.

For Fireteams with more than 4 players, Fireteam members will be split across multiple in-game squads. Pings are only visible to players in your squad.

Pelicans vehicle drop-offs in Big Team Battle have been improved to deliver the same vehicle for both teams in the same wave.

Due to the Pelicans' flight path on each map, there may be some slight differences in the timing of vehicle drop offs between the two teams.

Players can no longer access unintended areas outside of the playable space on the map Chasm.
The VK78 Commando Rifle's sight no longer appears opaque when using some of the new Weapon Coatings introduced in Season 4.
Spike Grenades thrown into water will now consistently deal their intended amount of damage.
During Infection matches, the holograms of incoming Power Equipment can no longer be picked up and activated as normal Power Equipment.
Holding down the Pick Up button while swapping to the next Escalation Slayer loadout will no longer result in players keeping the previous loadout's Equipment.
The Extermination medal can now be earned when playing any Arena game mode in Halo Infinite.

This medal can be earned by killing all four members of the opposing team in rapid succession, before the first player to be killed has respawned.

The "Straight to the Bank" Achievement can now be earned in a Custom Game session.

This Achievement can be earned by depositing 5 Power Seeds in a single Stockpile match.

Bots will now consistently navigate through 343 Industries maps made in Forge.
When playing Last Spartan Standing on a Big Team Battle map, the Danger Zone now consistently inflicts damage to players.
As announced via @HaloSupport on Twitter on August 8, 2023, the following map and playlist changes were made via a backend update:

Map improvements:

Weapon spawns on Catalyst have been adjusted and, as a result, it has been re-added to the Ranked Arena matchmaking playlist.
Plasma Grenades will no longer become stuck in the Gravity Lift on Solitude.
Weapons dropped in the Elevator area on the map Empyrean can now be picked up consistently.

Playlist improvements:

Playlist descriptions and names have been adjusted to better reflect their included maps and modes.
The order of the playlists on the Multiplayer menu has also been adjusted to provide a more consistent layout week-to-week.
Squad Battle is now a staple playlist, meaning it will not be removed from matchmaking.
There are now five rotational playlists available, one for each of the following categories: Big Team Battle, Arena, Ranked, Doubles, and Free-For-All.
Menus
The "Battle Tested" achievement now consistently unlocks after reaching the maximum level on any Battle Pass.

If you completed a Battle Pass prior to this update and did not receive this Achievement, navigate to the main menu then select the Battle Pass widget in the top right corner of the menu. The Achievement should unlock shortly after opening this Battle Pass menu or while navigating its sub-menus. If you have completed a Battle Pass and are not receiving this Achievement after the update, submit a ticket so our team can investigate.

The Career Rank Rewards screen will no longer overlap and block other menus if another menu is opened while it is active.
The button prompts listed at the bottom of the Post-Game Carnage Report menu will now appear more consistently.
Selecting the Content Browser's "Browse All" option no longer lists the "Popular" results when initially opened.
On August 29, 2023, the Bot Bootcamp playlist returned to matchmaking as a staple playlist.

Alongside Bot Bootcamp's reintroduction, the development team has updated how Career Rank progression is applied in both the Bot Bootcamp and Big Team Battle playlists. Career Rank progression in these playlists is now earned via Applied Score rather than Personal Score. Applied Score is determined by multiplying your Personal Score with the playlist's multiplier.

To align more closely with the rest of the experience, Big Team Battle has received a multiplier increase while Bot Bootcamp has had its multiplier reduced. We'll continue to monitor the Applied Score across all playlists to ensure players are able to progress through Career Rank at a fair rate across the board.

These changes were announced via @HaloSupport on Twitter.
Custom Games
The default value for the Points Per Slay setting is now consistently set to 1 when modifying Custom Game settings.
Customization
The Superintendent's eyes are now consistently visible in the Body & AI customization menu.
Weapon Coatings now consistently apply the correct color to the M392 Bandit when the Crimson Dawn Weapon Model is equipped.
The Grim Fortress Weapon Coating now consistently applies its intended colors.
Theater & Observer Mode
Improved stability when fast-forwarding and switching perspectives simultaneously in a Theater film.
Assigning the Change Outlines function to a new controller button now consistently results in the new binding working as expected.
Observer Mode's Starting Outlines setting now consistently takes effect after being toggled from the Settings menu.
When switching between players on either team as an Observer, the overall scores for each team are now less likely to become swapped on the Observer Scoreboard.
The Observer Scoreboard now only shows columns that are used by the current game mode.
Forge
The Golf Ball, Primitive Sphere, and Forerunner Sphere objects now react to player collision when their Physics setting is set to Normal in Forge mode.
The Physics and Collision budget meters will now consistently update when the Physics setting of a Dynamic object is set to either Normal or Phased.
Objects no longer change colors when transitioning between the Object Browser menu and placing them on the map.
Railings, Columns, Floors, Ramps, and Walls objects in the Halo Design Set category will no longer turn grey when applying new Scratch and Grime values.
The Forerunner Door Small Animated object can now be consistently repositioned.
Tall objects, such as columns, can now be Snap Duplicated along their longest axis.
All Flora objects now have consistent collision after setting the Object Collision to Dynamic.
Identifiers within node graphs are now less likely to revert back to a blank value after duplicating and deleting Script Brains.
Nav Marker icons on the Heads-Up Display (HUD) now align with the selected Nav Icon value in the associated Node Graph.
Players can now edit objects on 343 Industries maps that only appear in the Infection game mode.
The Player Blocker object no longer blocks dynamic objects from crossing its threshold.
Players can now pass through the open sides of a One Way Blocker more consistently.
Grenade Blockers now consistently block grenades' area of effect damage.
Player Blockers, Grenade Blockers, and the Water Plane object no longer disrupt navigation mesh data on Forge maps.
Re-entering a Forge map after encountering a server issue no longer results in the new session's save attempts failing without informing the player.
Lowering the Sunlight Intensity Map setting below its default value is now less likely to result in a crash.
Scaling the Wall Window A MP object is now less likely to result in a crash.
Players will now see an error message when attempting to save a Forge map that is too large to open.
Known Issues
With this update, the team has added multiple new issues to our Known Issues lists:
Campaign
Launching Halo Infinite from Steam may result in a crash if both Campaign and Multiplayer's High-Res Texture Packs are not installed. If you're experiencing this issue, use the workaround steps below to resolve the crash. If the steps below do not work, submit a Bug Report ticket so the development team can investigate.

1. Right click on Halo Infinite in your Steam Library and select Properties.
2. Select the DLC tab in the Properties menu, then uncheck the Multiplayer High-Res Textures.
3. Close the Properties window and allow the game to update.
4. Relaunch Halo Infinite. If the game is crashing at this step, return to the Properties menu and uncheck the Campaign and Campaign High-Res Textures DLC. After the resulting update, relaunch Halo Infinite to see if the game is still crashing. If the game is still crashing after uninstalling all DLC, fully reboot your PC.
5. If the game is now launching without issue, you can reinstall the DLC that was removed.
Multiplayer
When starting a match with bots enabled, the bots will enter gameplay and may attack players during the match's non-interactive intro sequence.
Bots may not navigate through certain areas on the multiplayer map Dredge.
A floor texture in the Outside area of the multiplayer map Dredge may appear stretched or distorted.
Power Weapons and Power Equipment may not spawn until 1-2 seconds after their associated Pad's countdown reaches 0.
When viewing a multiplayer match's Theater film, players who joined the match while it was in progress or players mantling over objects may appear to stutter in place.
Subtitles for the player's Personal AI may still appear after disabling the Personal AI Chatter setting.
When the Effects Quality setting is set to Medium or above, the player's vision may be obscured when standing next to a Gravity Lift on the map Dredge.
When using the Swiftguard Weapon Model, the following Weapon Coatings are missing a texture on the MK50 Sidekick:

Flash Fjord
Snowbound
Tigris Dread

Rarely, after connecting to a Local Area Network (LAN), a connection error message may appear and the list of players on each multiplayer team may disappear from the Custom Game menu.

If you encounter this issue, close and relaunch Halo Infinite.
Forge
The Reactive Water Plane only responds to players and vehicles as they make contact with the water's surface. Players and vehicles that are submerged in the Reactive Water Plane will not appear to splash as they continue moving through the plane.

The Reactive Water Plane's reactivity will be improved in a future update for Halo Infinite. Stay tuned to @HaloSupport on Twitter for the latest news on game updates.

Some objects on the map Recharge may appear completely white when modifying the map in Forge mode. The affected items will appear with their intended textures in multiplayer gameplay.
More Information About This Update
Many platforms automatically update games. To manually update or verify your game is up to date, follow the steps included in our How to Update Halo Infinite article.
Some of the improvements in this update required us to invalidate past Theater films created during Season 4. If you have moments you would like to save, please record them using a digital recording tool.
Forge file versions older than 30 days may be automatically deleted. Exceptions include:
The 10 most recent versions will never be deleted.
Published versions will never be deleted.
Locked versions will never be deleted.

Up to 30 different versions can be locked per Forge file.
To lock Forge file versions, follow the steps below:
Navigate to the Community tab of the main menu.
Select My Files.
Select a file to view its Details menu.
Scroll down on the lefthand side menu and select Version History.
To lock a file version, highlight a version in the Version History menu then select Lock on the righthand menu.
To learn more Halo Infinite and its development process, check out the following resources on Halo Support or Halo Waypoint:
Join the Halo Insider program for the chance to see new features before they're released publicly and, if you've encountered a bug in-game, submit a Halo Support ticket so that the development team can investigate the issue. Thank you to all Halo Insiders and ticket submitters for their bug reports and feedback!
Download Size by Platform
Xbox consoles: 4.0 GB or less
Microsoft Store app or Xbox app on PC: 4.0 GB or less
Steam: 4.5 GB or less
Further Resources
If you experience problems with your Xbox console or Game Pass, Xbox Support can help you.
If you have problems with your account, Microsoft, or Xbox purchases, Microsoft Support can help you.
If you have problems with other purchases, please contact the retailer you purchased your game from.
If you experience a problem in Steam that is not an in-game issue, please contact Steam Support.
If you want a chance to participate in future Halo flights, sign up for the Halo Insider Program.